Damien
French, passionate since my young age by architecture and geographical maps, I was elaborating many itineraries and crazy imaginary installation projects. Much later, at 37, Marrakech was a destination without return. It was in 2007, and it is there that began the history of Al Ksar. All my savings engulfed in the riad, holidays were over, and I understood that it was the beginning of a Great Project Travel
French, Sportive, fond of History Geography and Geopolitics, I love to escape through reading and travelling since childhood. After 10 years in the United States and London, it is following a lazy mountain bike trip in the atlas in Morocco that I invested in the project of Al Ksar in Marrakech. With a good dose of tranxene passion, the Riad finally opened its doors. Since then, no day is the same, and it is always the same happiness
Olivier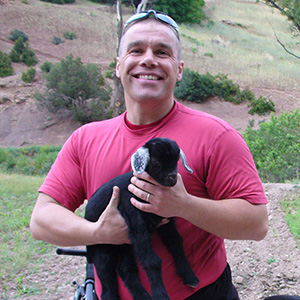 "The Journey is my Home" from Muriel Rukeyser, extract from One Life
Our Vision of Hospitality and Independent Hotels is continually nourished by our Traveler experience. Our guests are at the heart of our Organization. Thus the Riad operates a Hotel Service 24/24 to stick to the Personal Rhythm of each, Quickly and Comfortably, Safely.
We are also deeply committed to the new challenges of Tourism, in terms of Respect of Cultures and Environment.
Nestled in the Exotic Medina, the Riad offers both Local Experience and Western standards, so that you feel like travelling to Marrakech "Like a Home".
We love doing a great job, with a Dedicated Human Service and Face to Face. The team is working slowly relentlessly 24/7 to concoct Home-made Products and Quality Services, provide personalized Local Advice, and provide a Unique Human Experience for unique customers.
It is because the Riad is our place of Life, Work and Inspiration that our Clients like to relax and recharge. And they are our best Ambassadors, as evidenced by their many testimonies online
Every day, we decrypt the Trends of the travel market, to improve your Experience at the Riad and to concoct the Best Offers and Packages on our Official Site. In addition to our Free Exclusive Benefits, and a Human and Friendly Customer Relationship, we guarantee that you will also find among us the Most Attractive Rates of the Web.
On www.alksar.com, with our "Live Chat" Button, you will live the Ultimate Humanized Booking Experience for your Stay in Marrakech, from your travel project and your arrival at the airport, to your return flight.