Spa Packages & Bains in Marrakech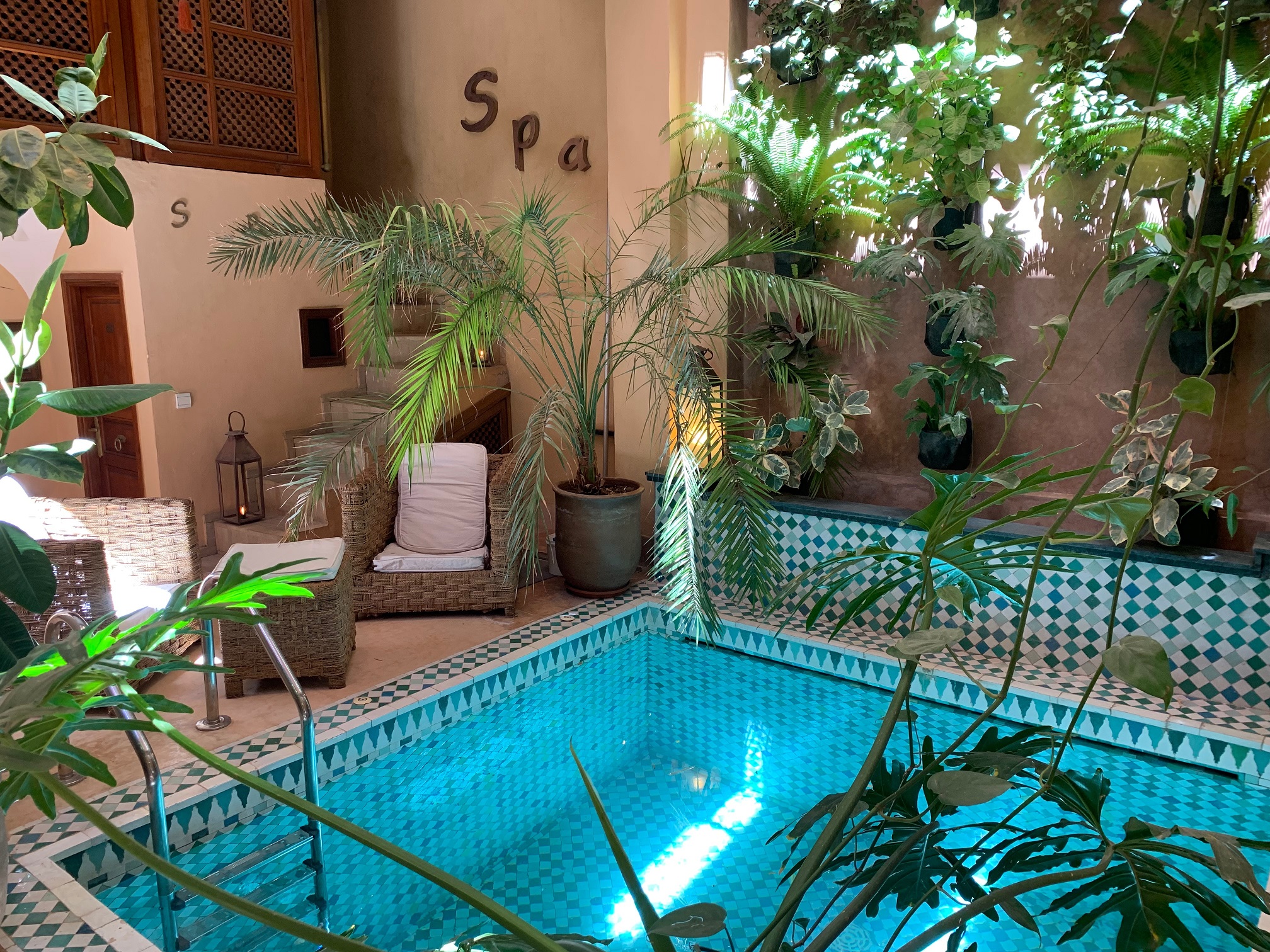 Pleasure of a Unisex Private Spa
Some Moments in Life are Worth More than others. The Luxury of Private Spa Bodycares is one of those moments. You will Relax as soon as you will be entering Riad Al Ksar and its Private Family Spa.
During a weekend break or more, enjoy the Best benefits of Spa Packages in Marrakech with hot water and Moroccan Natural Wellbeing treatments in our Private Family Spa area. With our offers for Unisex Spa Treatments, Relax at the Riad Al Ksar, Boutique Hotel Spa in the heart of the Medina of Marrakech.
The Spa includes two DUO Moroccan Steam Baths, and two DUO Massage Rooms, for up to 4 persons simultaneously, a beauty cabin for Esthetic Cares within an intimate riad of charm, calm and luminous, ideal for relaxation and quietness.
The Spa is opened to External Guests, By Reservation Only, by email at contact@alksar.com or téléphone or via our SPA BOOKING FORM
Hammam & Massage in Unisex Duo Room (for 2)
Ideal for Couples, our Spa Packages Bains in Marrakech include Hammam & Massage Treatments. Cares are provided in Unisex Duo (Man/Woman) Hammam Steam & Massage Rooms, in the Medina of Marrakech.
At the Riad Al Ksar & Spa, Traditional Moroccan Hammam Cares are carried out in the respect of the tradition of the peeling and then the wrap, flavored with Eucalyptus  Essential Oil. In Morocco, the Hammam is associated with Black Soap Scrub and Rhassoul Clay Wrap treatments, which multiply the wellness.
The Moroccan Massage, ideally with Pure Argan Oil, carried out immediately after a Hammam Care, has a beneficial effect.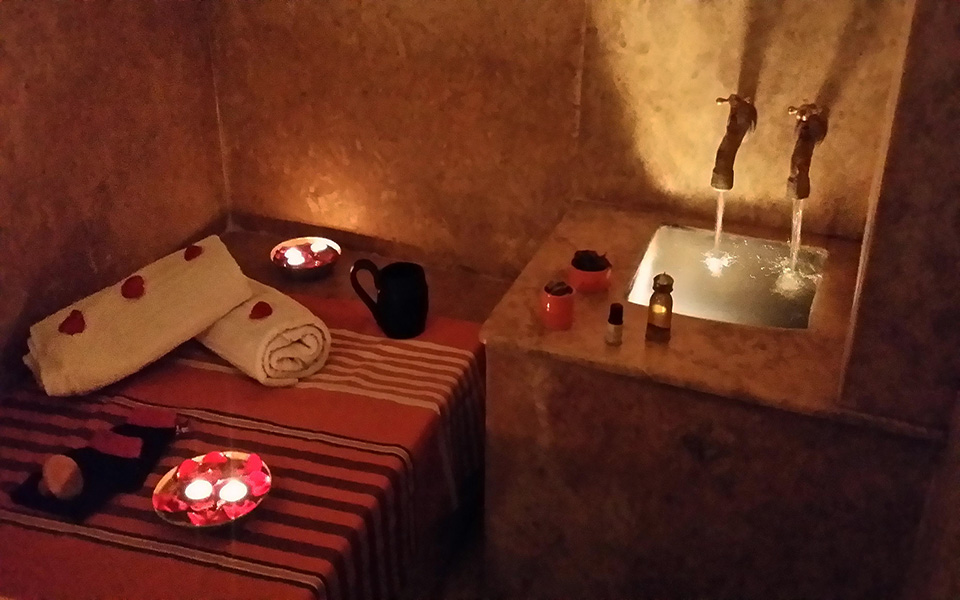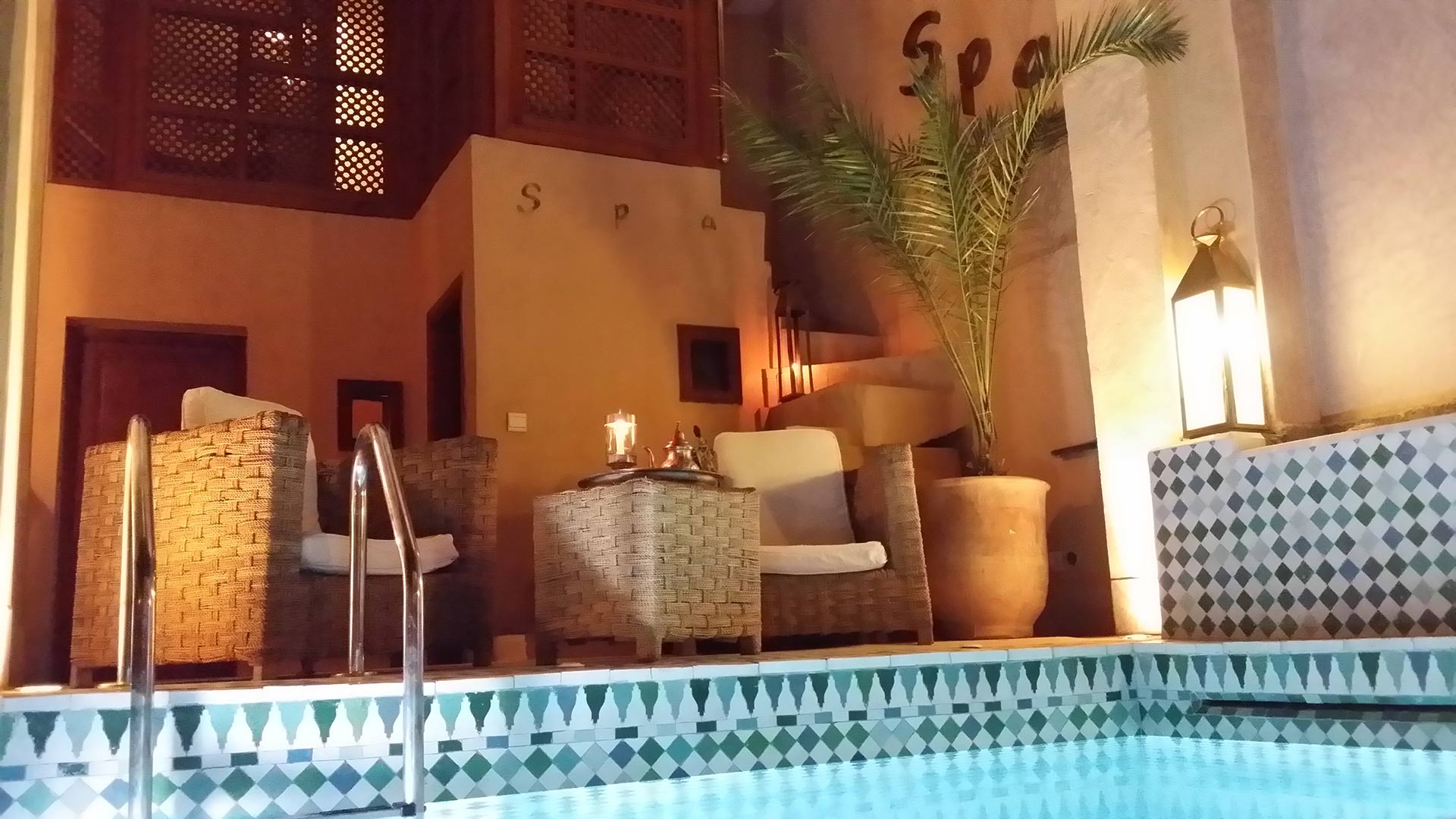 Relaxing Spa Day for External Guests
Every day from 10h until 19h (10h to 17h during Ramadan time), our Spa Day treatments at the Riad Al Ksar are available FOR EXTERNAL CLIENTS (Not staying at the Riad), by Reservation Only. Take advantage of our "Spa Day" offers, to make the most of  your stay in Marrakech
The Best of Moroccan Wellbeing Treatments includes Mixed Spa Cares, in Duo Rooms, ideal for couples.
Discover the magical atmosphere of a Riad with its Private Spa area during a traditional DUO Mixed Moroccan Hammam & Massage care with Access to the Terrace included.
Information and Reservations for the "Day Spa" (Half Day Spa Care) can be made by email at contact@alksar.com or téléphone or SPA BOOKING FORM.
Wellness Spa Menu
Discover the Menu & Rates of all our Traditional Spa Packages in Marrakech. Duo Treatments for Couples:
Steam Bath Hammam with Scrub & Wrap
Massage
Esthetic Cares
Also take advantage of our Spa Promotions available for any Spa purchase online or when Booking an External "Spa Day" care by E mail at contact@alksar.com or via our CONTACT FORM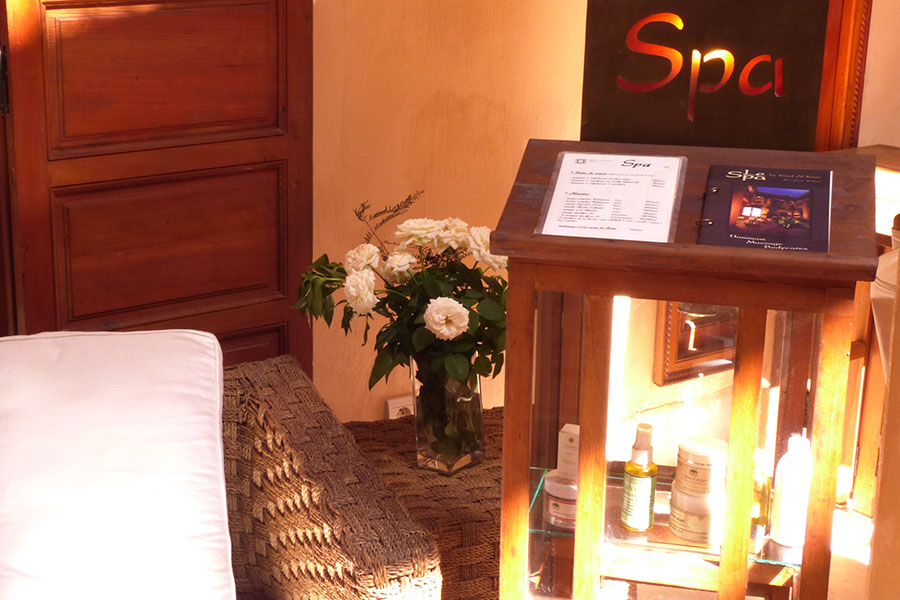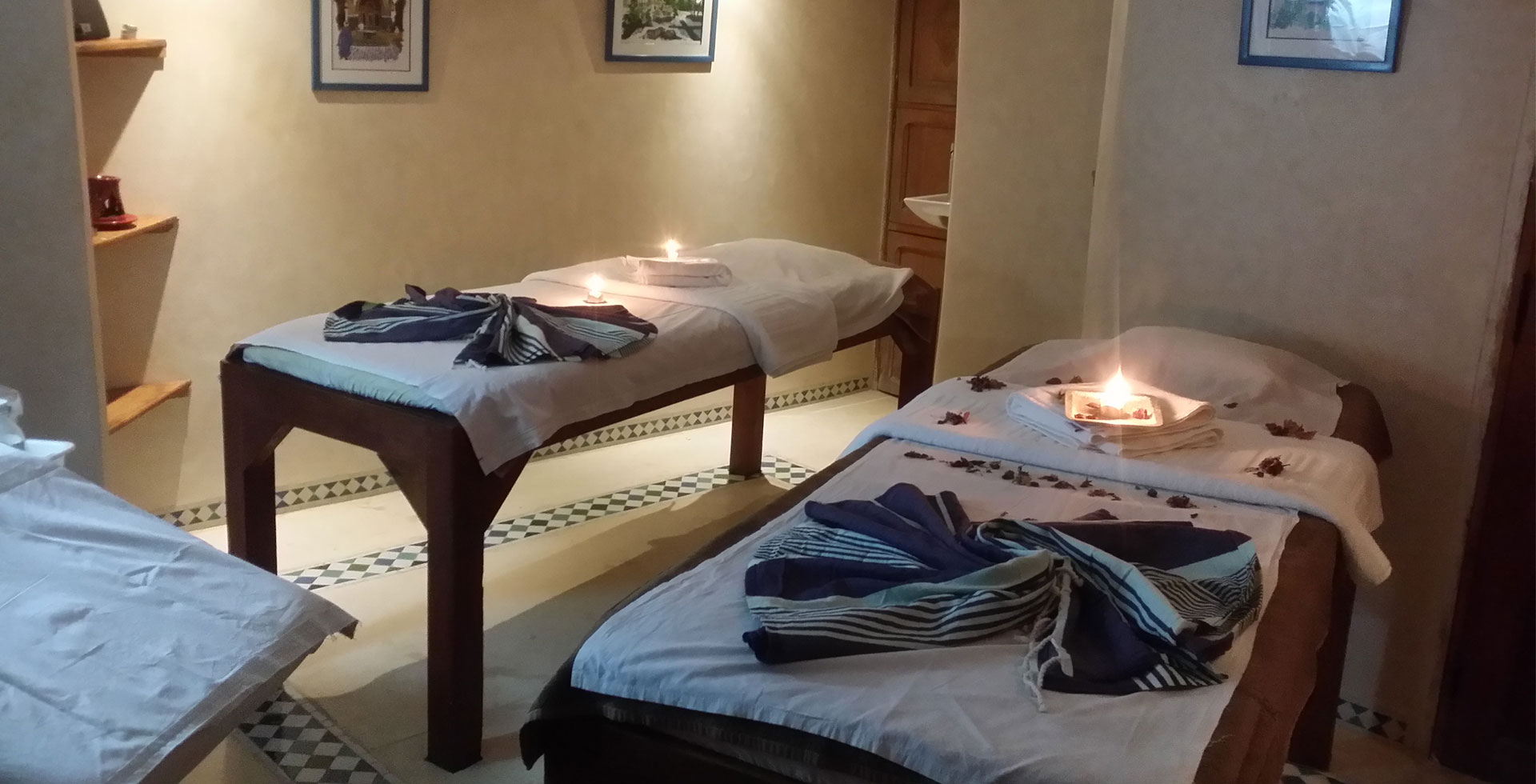 Spa Booking Request
The Family Spa of Riad Al Ksar is open Everyday from 10h until 19h (10h to 17h during Ramadan time)

Spa bodycares are made by Appointment Only, Recommanded at Least 3h in advance
Appointment Notice: Acccording to Availability & at least 15mn before for Massage, at least 15mn to 1h before for Hammam (according to Steam Room temperature)
Spa Informations & Reservations For Couples at the Spa of the Riad Al Ksar in the Medina of Marrakech can be made by email at contact@alksar.com or phone, or Spa Booking Form or Directly On Spot for Customers staying at the Riad Al Ksar & spa.
Health Safety at the Private Spa
Riad Al Ksar & Spa is implementing new sanitary measures to ensure your Spa Experience in a safe and healthy environment and as comfortable as possible :
– Access to the Riad's Spa by reservation only. Our Spa Treatments are Exclusively Private in Individual or Duo rooms.
– Foot Bath, hand washing in touch-free bathroom, taking of temperature are compulsory. In case of refusal, access to the establishment will be refused.
– Wearing a mask and a social distance of 1m50 are required in the common areas between clients or with the staff.
– The Riad is equipped with 2 touch-free bathrooms and the Spa Rooms (locker rooms, cabins, toilets) are cleaned and disinfected with an anti Covid-19 Biodegradable Virucidal cleaner after each client visit.
– The Spa staff is equipped with individual protective equipment during treatments (mask, gloves, work smock), and trained to respect the good sanitary practices of the Spa.
Discover the Full Internal Health Protocol of Riad Al Ksar & Spa is available below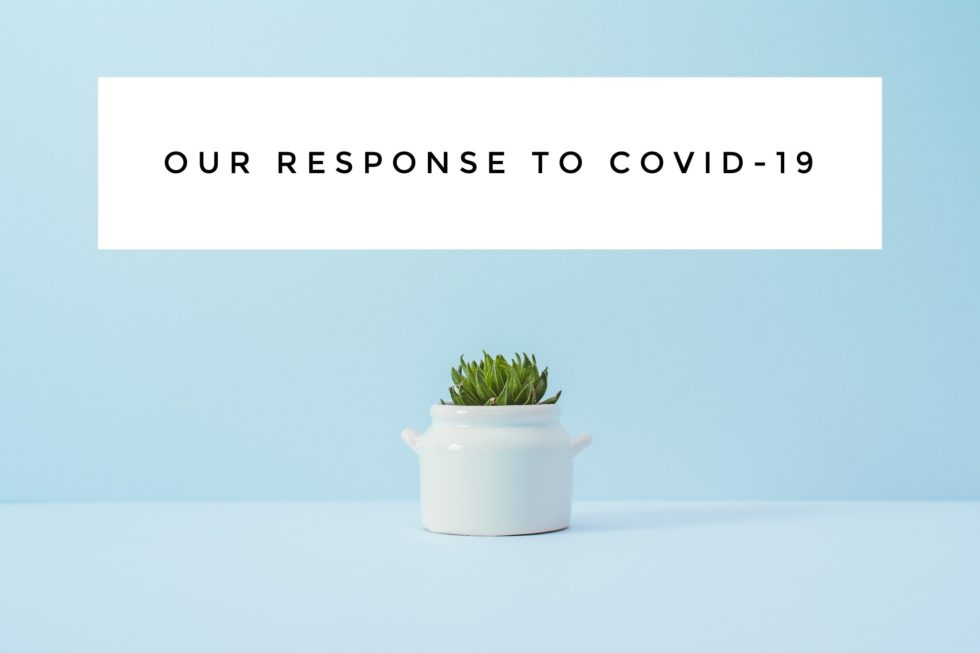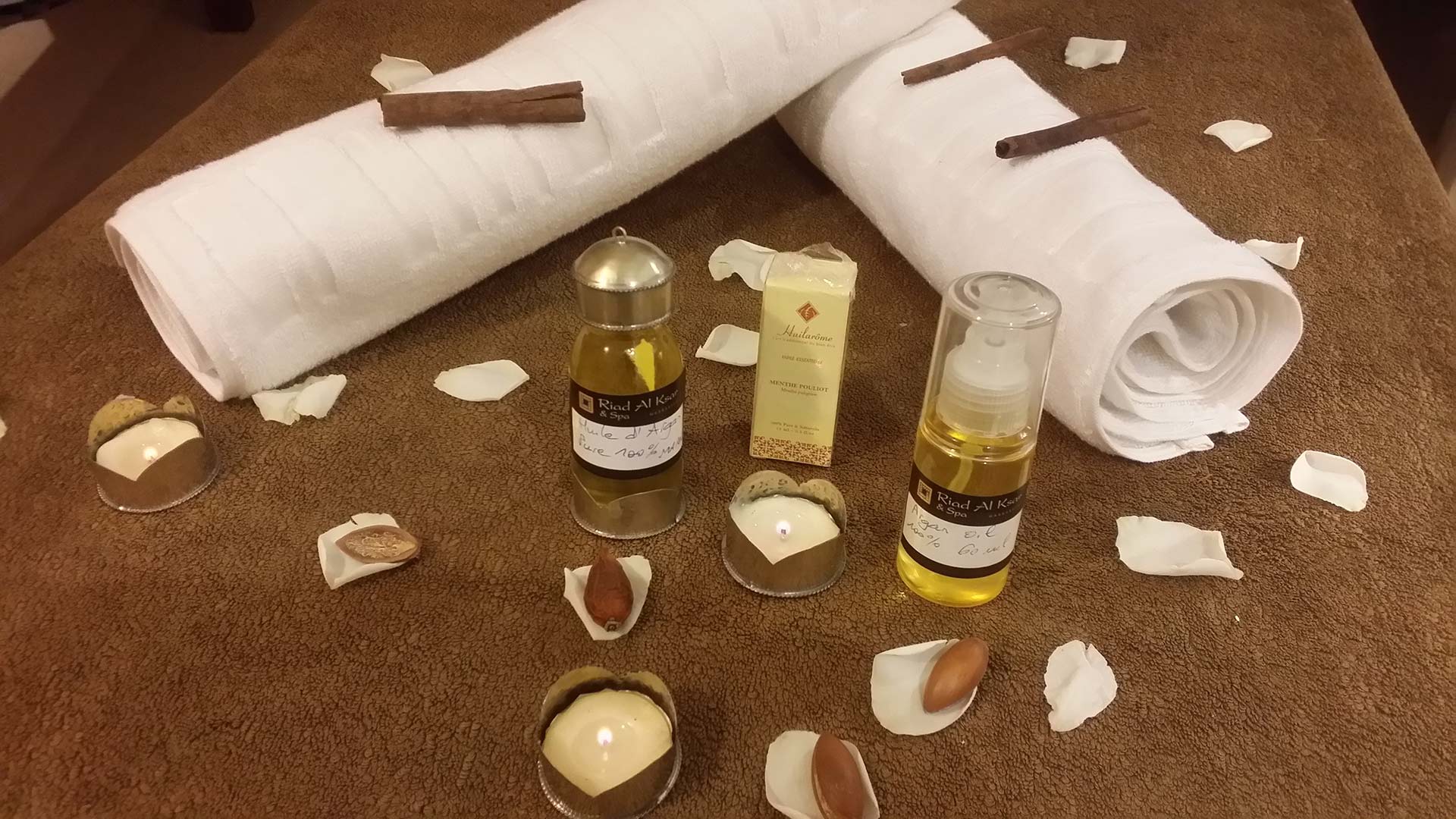 100% Natural Moroccan Spa Products & Gift Shop
The Spa products used by the team at Al Ksar, such as Argan oil, Rhassoul Clay, Black Soap, essential oils, masks, flavored waters and soaps, are made by Natural "Bio certified" Moroccan laboratories or processed manually with 100% Natural methods, without additives. The Ghassoul Clay and the Black Soap are naturally produced in Morocco.
All products used in the Spa of Riad Al Ksar are available for sale in Gift Box in the Riad Corner Boutique, to pamper yourself or your relatives and friends with Natural and Cheap Moroccan Well Being Products.