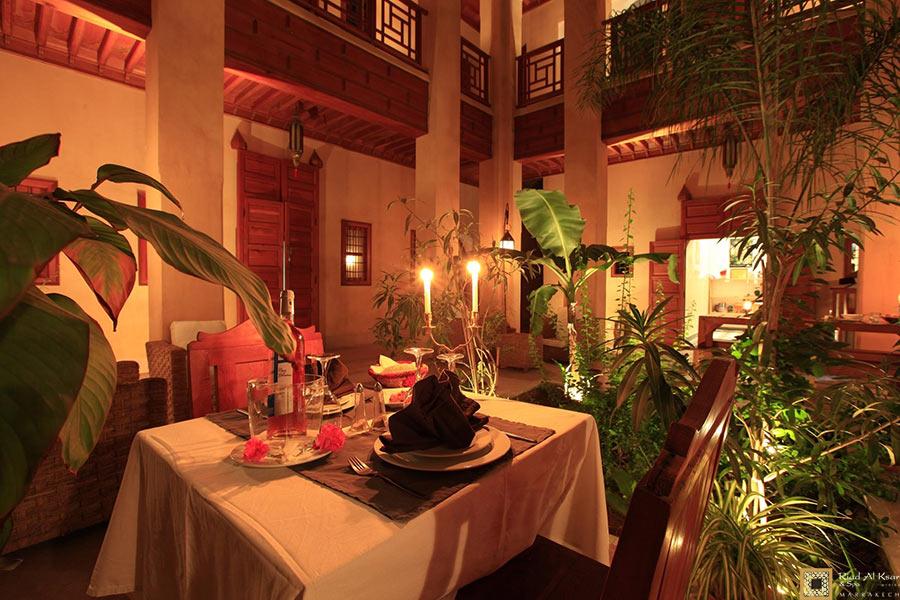 Moroccan Restaurant by Reservation
Our Table d'Hotes with Moroccan Restaurant Marrakech Specialties offers delicious Maghreb dishes By Reservation such as Homemade Chicken Pastilla, Beef Tagine , Harira soup, Tangia of Lamb Couscous .
The team offers a Family and Traditional Tasty Cuisine, prepared with natural ingredients and spices. Our Moroccan Restaurant Marrakech Menu will make you discover the most famous Moroccan dishes and the excellent Oriental Flavors.
Our restaurant of Moroccan dishes is Open from 10am to 23h NON STOP. The beautiful days you can enjoy a dinner of Moroccan cuisine at the Panoramic Terrace of the Riad under the stars or under the Shaded Pergola to observe the famous Flight of Storks in Marrakech.
Riad Table d'Hotes on Panoramic Terrace
The beautiful days, you can enjoy a Dinner of Moroccan Cuisine on the Panoramic Rooftop Terrace of the Riad under the stars or a lunch under the Shaded Pergola of the Riad with the view of the Koutoubia Mosque and the Atlas Mountains.Even during rainy and grey days, our lounge will welcome you for a succulent dinner, or the covered Patio for winter time will great you for your meals.
Our Restaurant of Moroccan Dishes is open from 10h to 23H NON-STOP. For a Fast Service, we recommend you Book in Advance Elaborated Dishes – at last minute, a snack menu will enjoy yoour needs.
Also take advantage of our Cooking Class of Moroccan Cuisine on our Shaded Panoramic Terrace. The Simple Pleasure of Moroccan Gastronomy.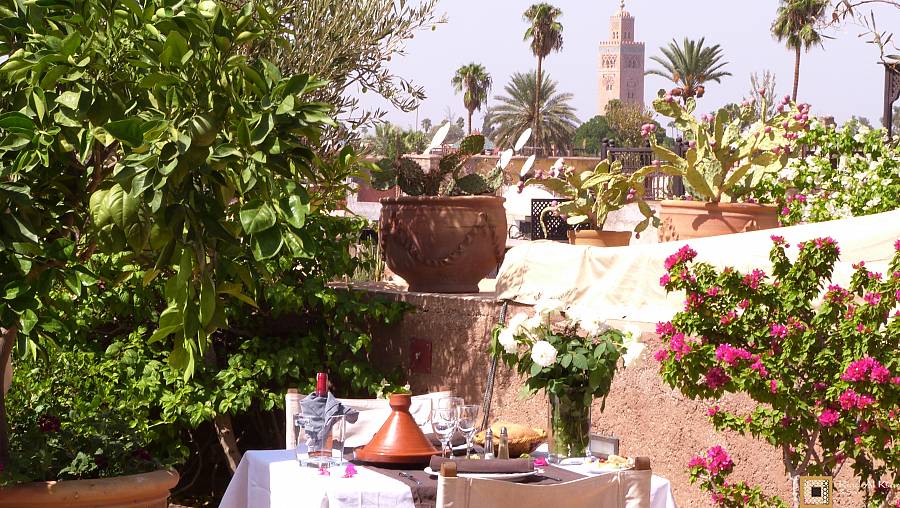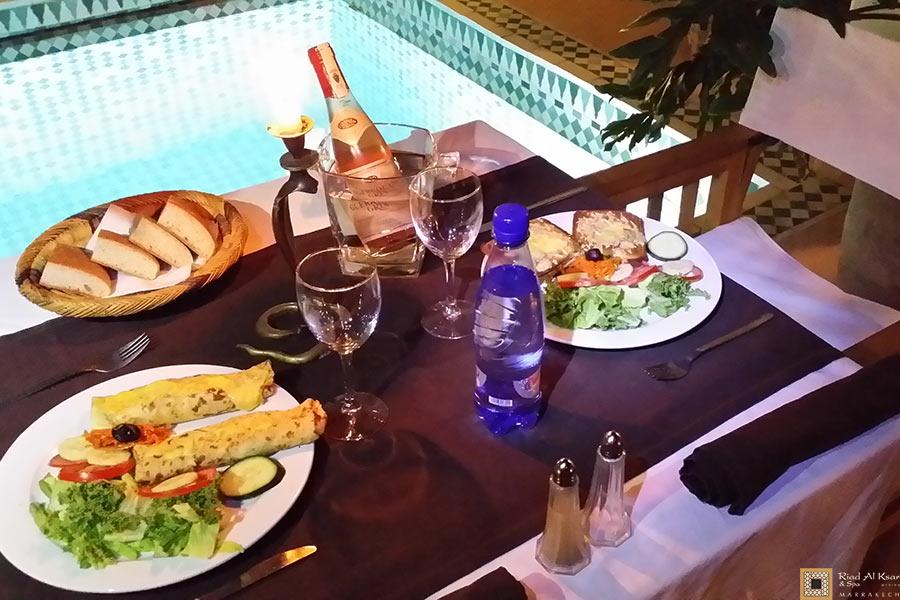 Sweet & Sour A la Minute Snack
Without Reservation, a more simple Snack Menu, a la Minute, is also available with a Quick Service, All Day Long.
Amuses-Bouche, Desserts, Homemade Ice Cream, Mix Salads, Grilled Meat, Seasonal Dishes are Homemade, with natural ingredients in respect of the moroccan style.
Served on the Terrace, in the Patio or in the Dining Room, you will have the choice of the atmosphere.