Bar & Restaurant & Cooking Class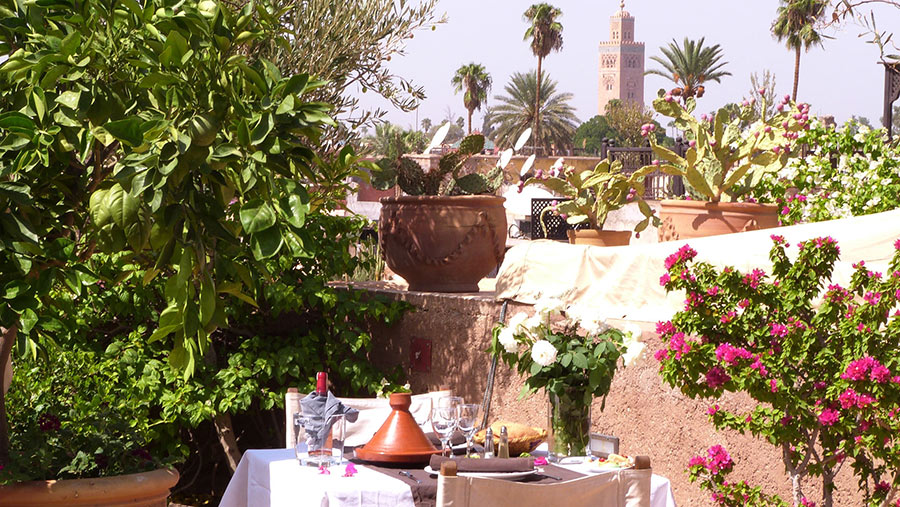 Moroccan Restaurant & Riad Table d'Hotes
The Moroccan Restaurant – Table d'hotes of Moroccan Specialities at the Riad Al Ksar in the Medina of Marrakech offers you delicious dishes of the Maghreb such as Chicken Pastilla, Tasty Lamb Tagine or Royal Couscous – serve in the Marrakech Restaurant.
The team cooks a Tasty and Family Artisanal Cuisine.  Couscous, Chicken Lemon Tagine, Tanjia or Harira will delight you. Free Wi-Fi.  By Reservation .
Moroccan Breakfast & Half Board
The Moroccan Breakfast of the Guest house Riad Al Ksar allows you a good start of the day. Entirely Homemade and Prepared with natural products, it is served free of charge on our Panoramic Rooftop with Koutoubia and Atlas View, on sunny days.
The Packages Meals such as Lunch, Dinner, Half Board (midday or evening at choice) and Full Board are available at the Marrakech Restaurant of the Riad. You will enjoy the Romantic Atmosphere of a Riad in the Medina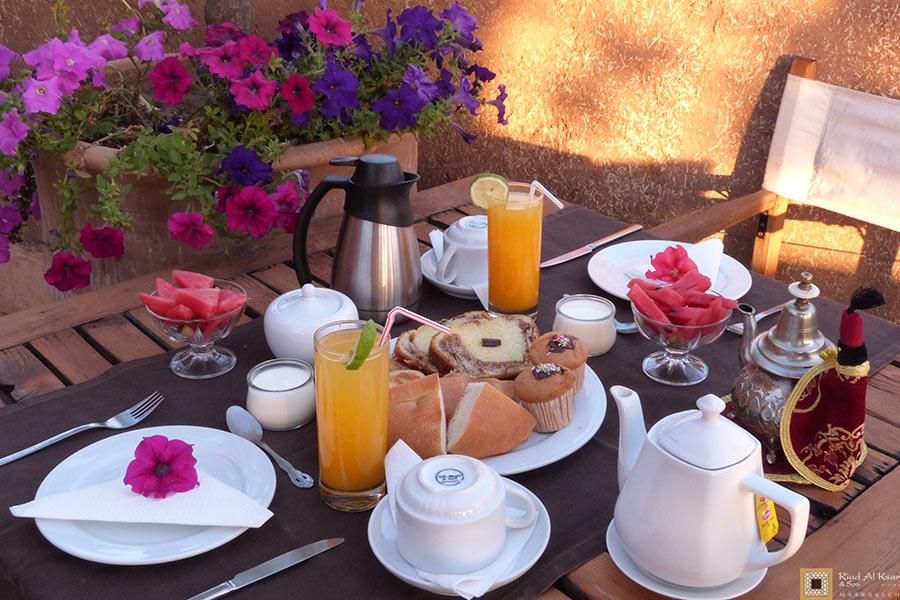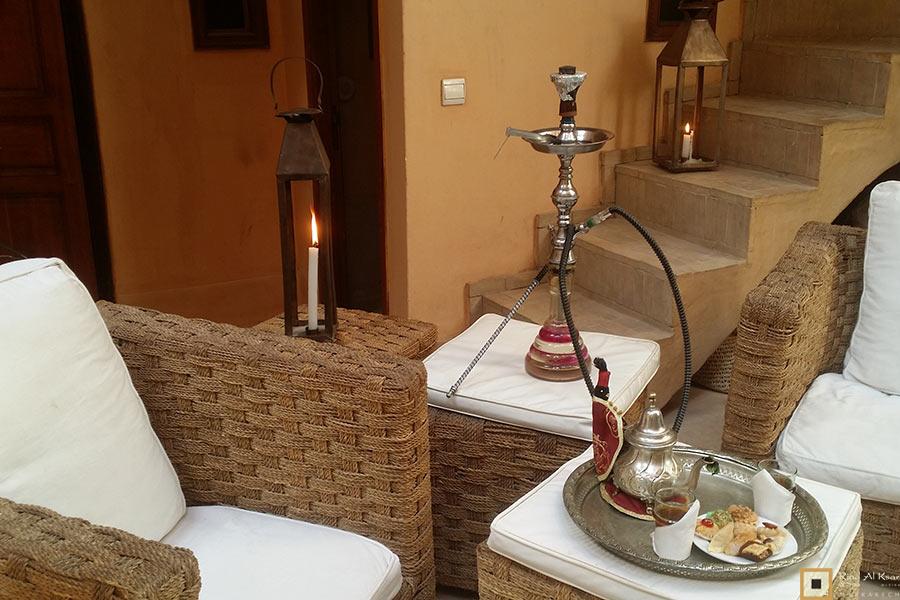 Shisha in Marrakech & Moroccan Mint Tea
Smoking a Shisha with a Moroccan Mint Tea or sip a smoothie accompanied with Oriental Moroccan Pastries.
Or simply Taste All Day Long a Delicious Homemade Sweet & Sour Snack menu, served from 8h30 until 23h, on our Panoramic terrace
Or Drinking an Aperitif with Tapas on our Sky Bar terrace or in our Patio Marrakech Restaurant
You will just have to Relax and Enjoy your Break in Marrakech
Private & Outdoor Cooking Class on our Panoramic Terrace
On the Panoramic Terrace of the Riad Al Ksar Marrakech, in our Outdoor Kitchen overlooking the Atlas Mountains of Morocco, discover the secrets of the most famous Moroccan dishes such as Chicken Tajine or Royal Couscous.
During a Private Moroccan Cooking Class you will learn the best Moroccan recipes.
A Moroccan Spices Workshop  will also be presented to introduce and familiarize yourself with the Moroccan Culinary Heritage. Argan oil Food, ras el hanout or ras el hanout, mix with 20 spices, safran couscous or tajine and Spices will have no secrets for you.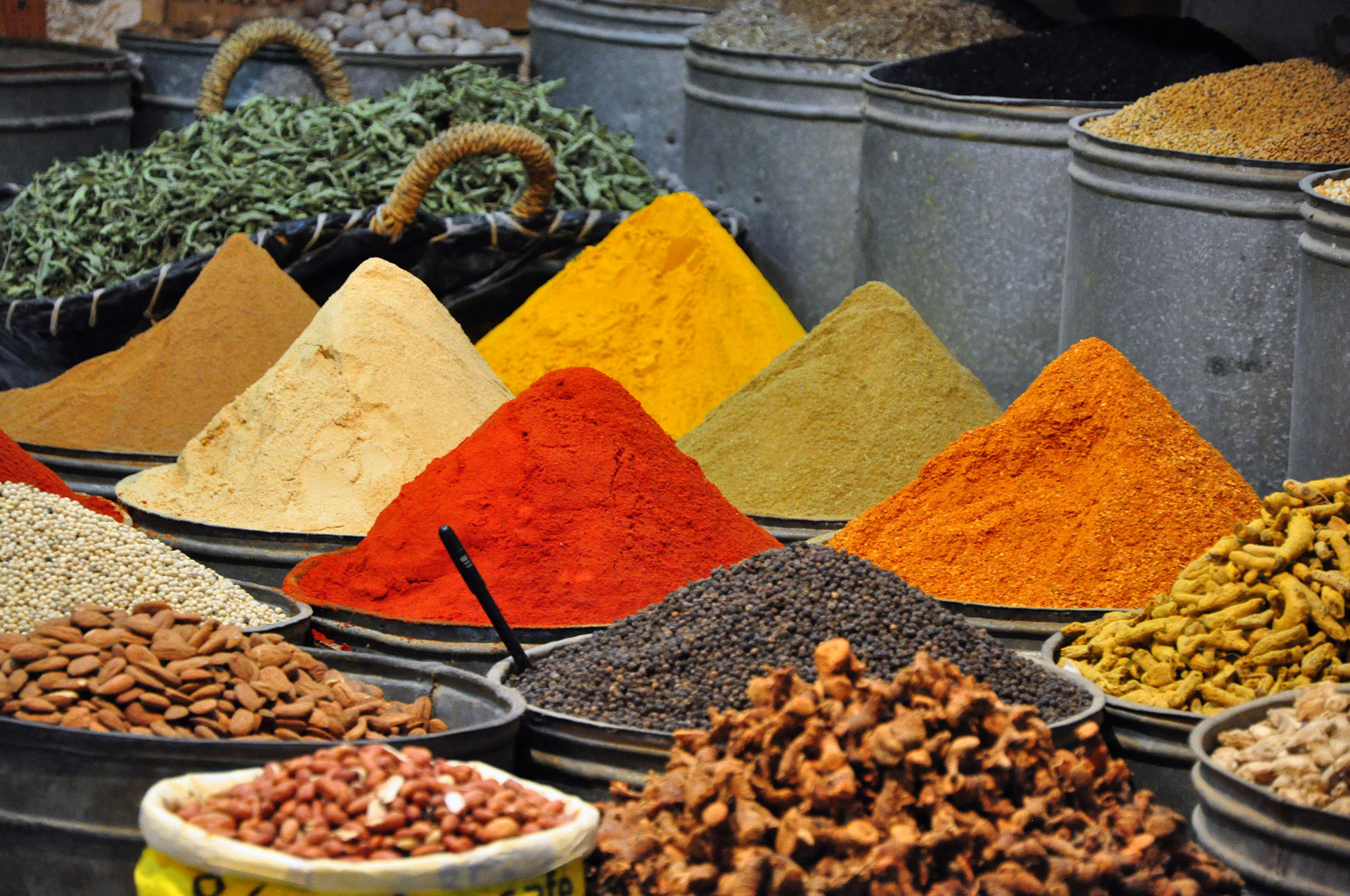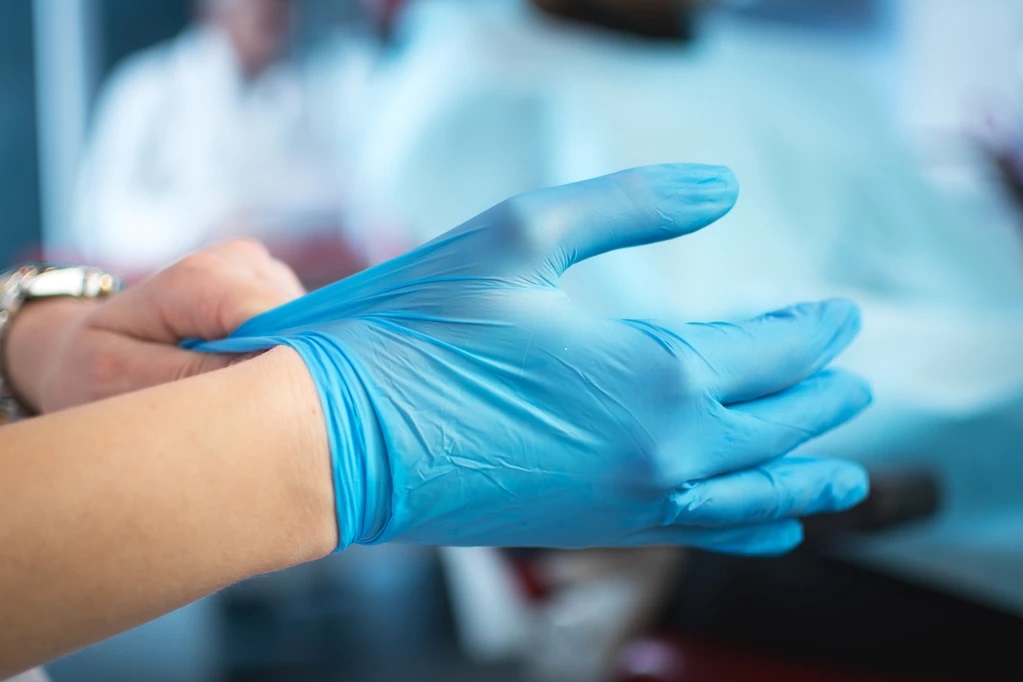 Food Safety
Riad Al Ksar & Spa's Food & Beverage service has been reviewed according to a strict sanitary protocol so that you can enjoy the Riad as comfortably as possible :
– Meals, half-board and snack formulas are served either on the Terrace or on the Patio, on private spaces arranged to guarantee a social distancing (space of +10m2).
– Menus in the Patio or Terrace can only be visually viewable.
– The Tables and Room Equipment are washed and disinfected at each service with an anti Covid-19 Biodegradable Food Virucidal cleaner.
– The Preparation, Service and Cleaning of lunch, diners and snack are carried out according to Rigorous Hygienic Measures (staff, food, utensils…).
Discover the Full Internal Health Protocol of Riad Al Ksar & Spa is available below