Moroccan Breakfast & Half Board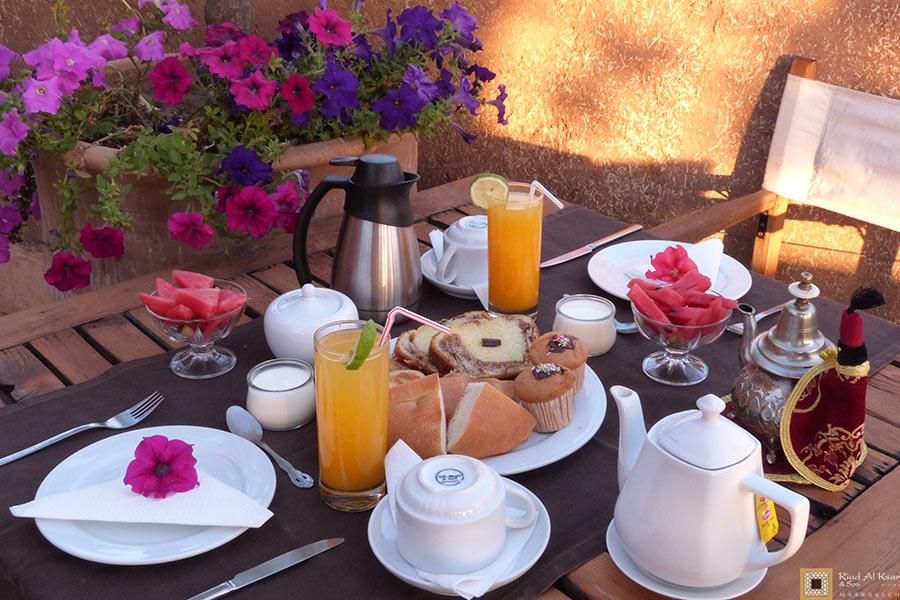 Moroccan Breakfast
The Moroccan Breakfast of the Guesthouse Riad Al Ksar allows you a good start of the day. Prepared With Natural and Homemade Products, it is served Free of Charge from 8h30 until 10h30.
You will enjoy Delicious Fruit Juice or Fresh Fruit Salad, Diary Products such as Homemade Moroccan Yogurt (Raib) or Fresh Cheese, as well as our Moroccan Crepes (msemmen, Baghrir) and French ones, Viennoiserie, Croissants, Cakes and Homemade Jam, along with Hot Drink, coffee or Moroccan Mint Tea.
The Moroccan breakfast is served either in the Patio or on the Shaded Terrace with panoramic views Koutoubia and Atlas, where you can enjoy our beautiful Rooftop garden decorated with olive, orange and lemon trees, cactus and palm trees, and aromatic plants under the Moroccan sun 340 days a year.
Half Board and Full Board Meal Plans
The Meal Plans Lunch, Dinner, Half Board (midday or evening at choice) and Full Board are available at the Restaurant of the Riad. You can choose those packages at Riad on request
At the reception of the Riad upon arrival
Through your reservation during your hotel reservation.
Outside Meal Formulas, it is possible to eat at the Riad in our Moroccan Restaurant in the Medina or at the Snack Bar from 8h30 until 23h any time during the day. Snack Menu, without prior booking or order, is an a la Minute Service available from 8:30 am to 23h. Orders for Lunch or Dinner are On Request a few hours before service in order to cook you tasty Moroccan dishes.
Also Enjoy, on our Panoramic Terrace,  our PRIVATE Cooking Class Workshop available by Reservation Online or On Spot in the Riad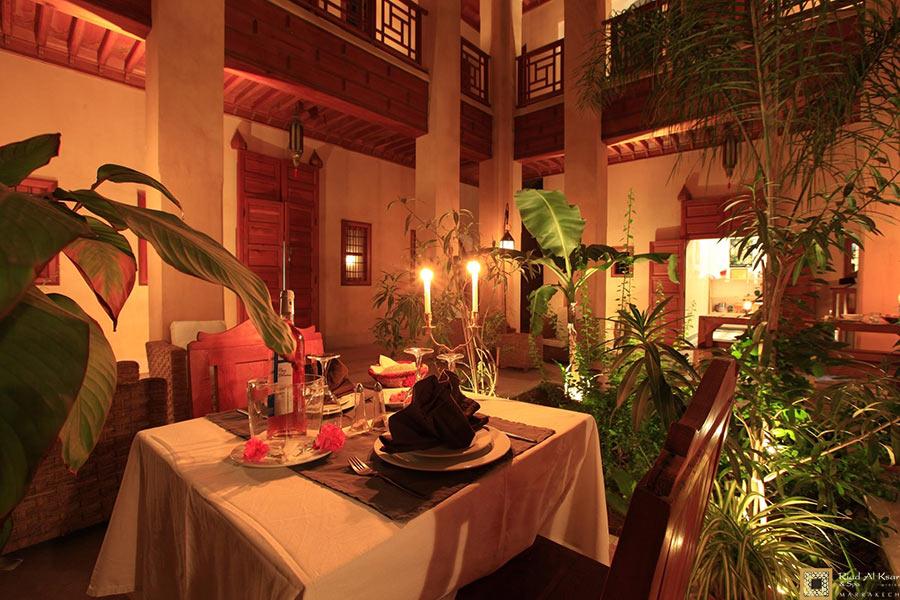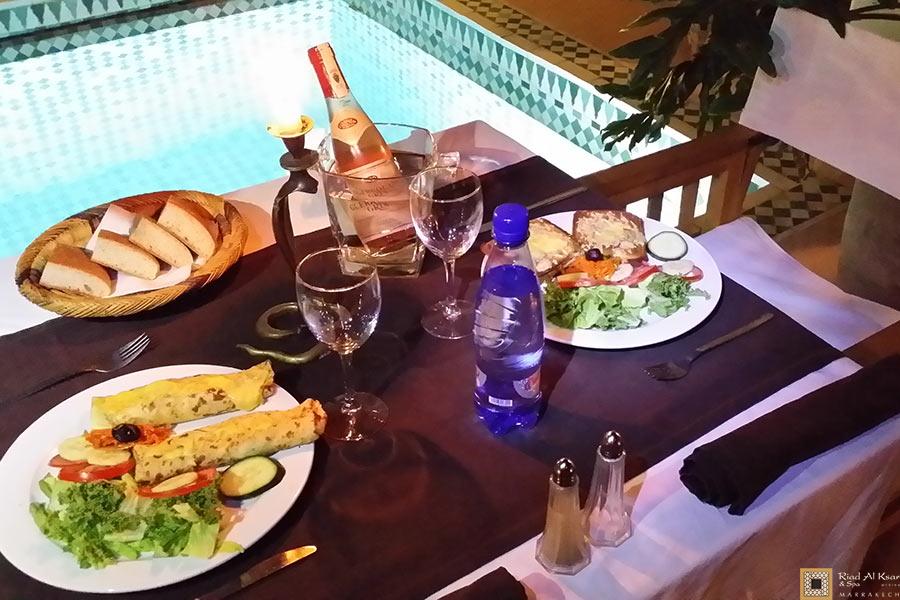 Snack Bar, All Day, without Reservation
A part from Half board and full board meal plans at the Hotel Riad Al Ksar, it is possible to eat at the Moroccan Restaurant of the Riad in the Medina of Marrakech or at the Snack Bar.
The Snack Menu, a la Minute with fast service, without reservation or prior command, is available from 8h30 to 23h.
Orders of more complicated Lunch or Dinner are on Reservation a few hours before service in order to cook tasty dishes.
Food & Health Safety
Riad Al Ksar has adapted its breakfast service in accordance with its sanitary protocol in line with the new sanitary standards :
– breakfasts are served either on the Terrace or in the Patio, on private areas arranged to guarantee a social distancing (space of +10m2).
– The tables and room equipment are washed and disinfected at each service with an anti Covid-19 Biodegradable Food Virucidal Cleaner.
-The Preparation, Service and Cleaning of breakfasts are carried out according to Rigorous Hygienic Measures (staff, food, utensils…).
Discover the Full Internal Health Protocol of Riad Al Ksar & Spa