Al Ksar & Spa | Riad of Charm in Marrakech
** FOLLOWING EARTHQUAKE OF 08 SEPT 23, RIAD AL KSAR & SPA IS OPEN (Recent Building Dating 2009) ** Also contact us ONLINE or via WHATSAPP ** The Boutique Hotel of Charm Riad Al Ksar & Spa features 9 spacious and comfortable Bedrooms, with discreet luxury, in the heart of the Medina. Our Guesthouse BnB, with Private Spa & Swimming Pool display Junior suites, Triple, Double and Individual Rooms for Rent. Included FREE: OPTICAL FIBRE SPEED WIFI, BREAKFAST, LINEN, HOUSEKEEPING, 24/24 ACCESS. INSTANT ONLINE BOOKING. Rates starting from.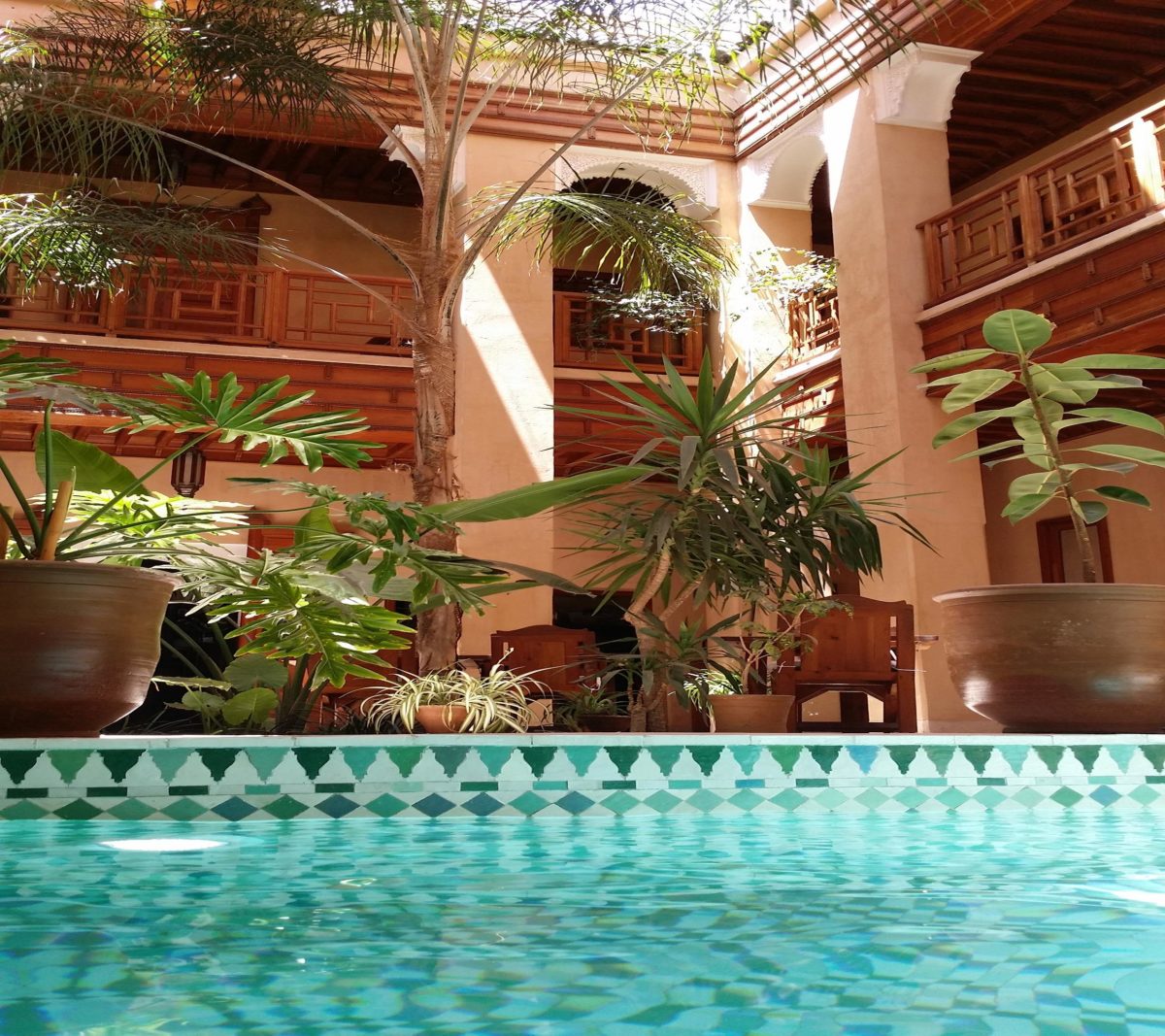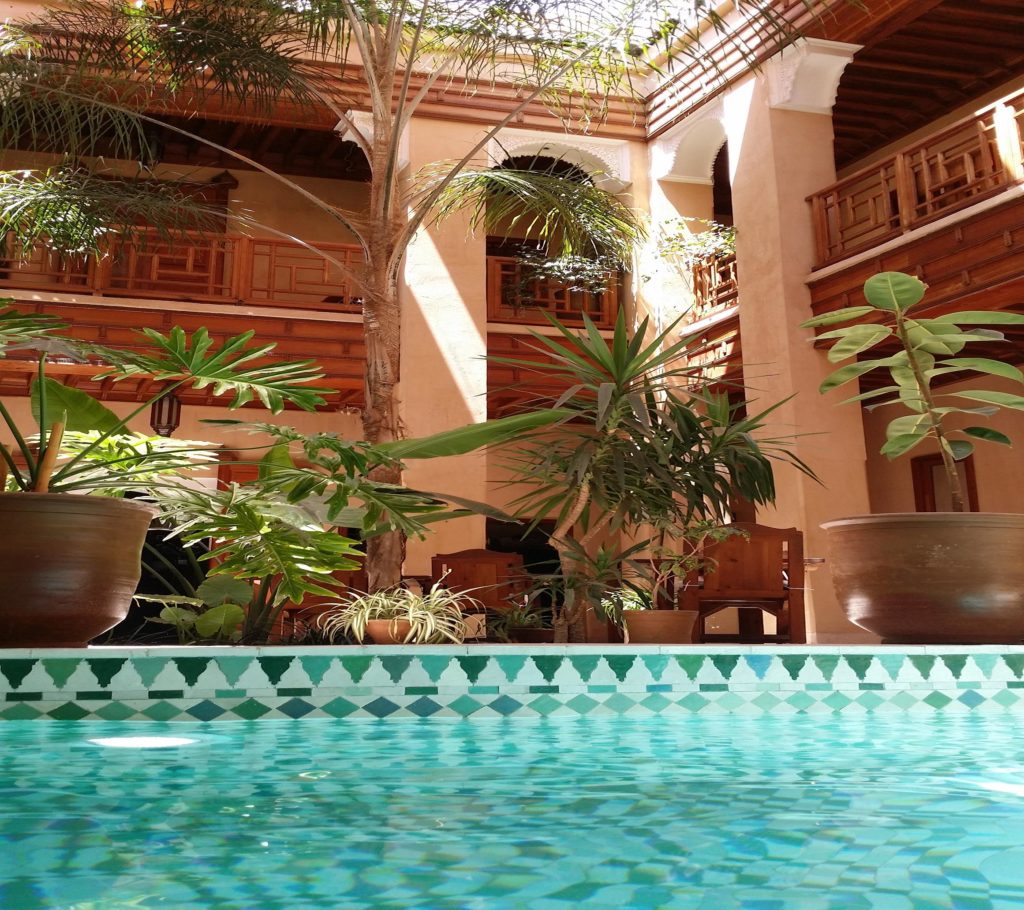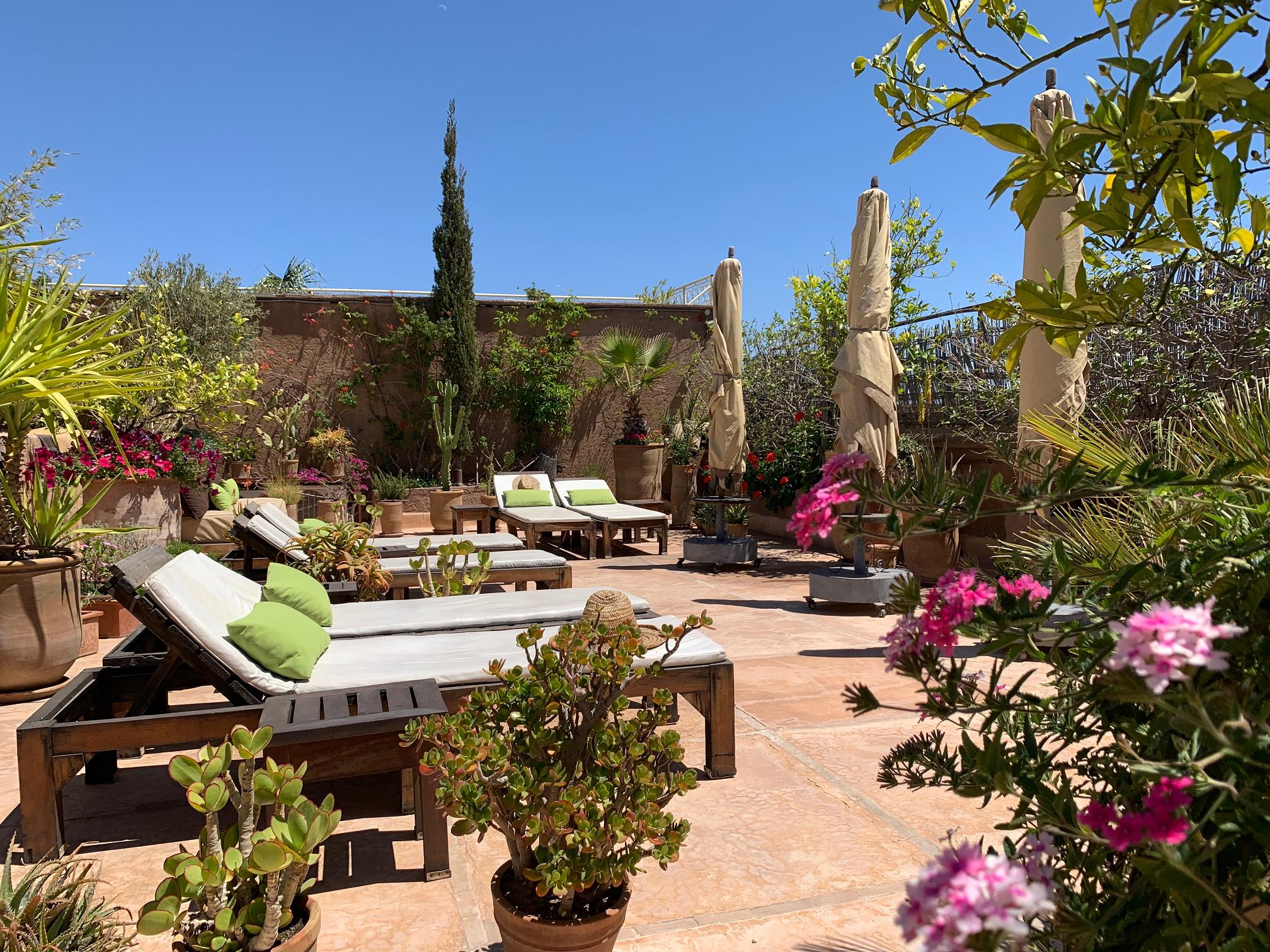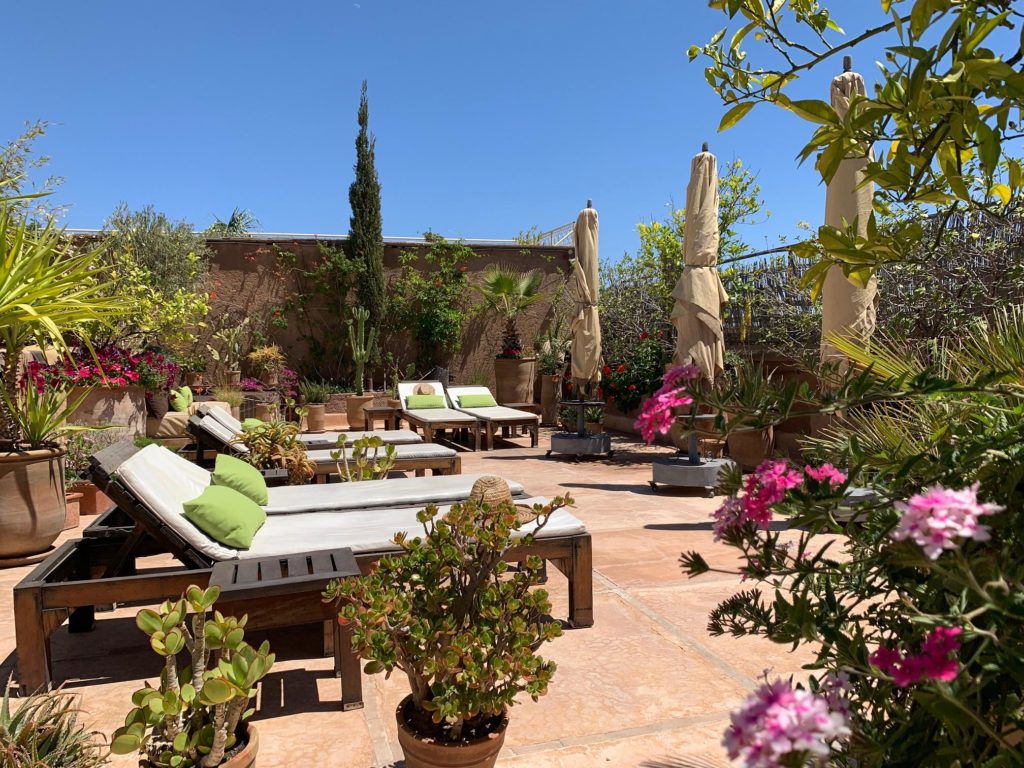 Riad with Hotel Services Medina Marrakech
Bright and peaceful Riad of Charm Guesthouse B&B with Swimming Pool, Riad Al Ksar & Spa is nestled in the heart of the tumultuous Medina of Marrakech, near Bahia Palace, in the former Jewish District. Our Boutique Hotel of Character opens its door onto a haven of peace and freshness, over 700 sqm.
The Riad features a Private SPA with relaxing Hammam , Moroccan Massage and Swimming Pool, a Beautiful Rooftop Garden Terrace with a Spectacular View, as well as the elegant and comfortable bedrooms heated with Solar energy.
In a Friendly and welcoming environment, the dedicated team offers you a personalized service to make you Feel at Home, so that you can live a Unique Experience at Your Own Pace 24h a day.
With a large patio area of 120m2 and only 10 bedrooms, the house Riad Al Ksar Marrakech offers Many HOTEL SERVICES 24/7: Free Wifi & Breakfast, 24/7 Access & Security, Linen & Cleaning Included, Airport Transfer, Moroccan Restaurant, Snack Bar Shisha & Private Moroccan Cooking Class on Rooftop, Excursions to the Desert and the High Atlas, Car Rental with or without a driver, tourist guide, money exchange, laundry service, connecting rooms, baby cot..
Booking on the OFFICIAL WEBSITE of Riad Al Ksar Marrakech is the guarantee to get the Best Rate of the Web and Exclusive & Free Advantages of charge. Live the Ultimate Experience of Humanized Instant Online Booking with our "Live Chat" Button
Why Choose Us ?
The team at Riad of Charm Al Ksar & Spa is pleased to offer a Personalized Welcome and Quality Hotel Service to its Guests in Marrakech. Al Ksar Guesthouse enjoys a Very Good Reputation with Excellent Comments and Reviews from Guest Hotels that have stayed in Riad.. They appreciate in particular:
BEST RATES & FREE ADVANTAGES only on the RIAD OFFICIAL WEBSITE
CONTACT via WHATS'APP from 9am to 9pm (button at the bottom of the page)
IDEAL LOCATION IN HISTORIC CENTER & EASY ACCESS Taxi
PANORAMIC TERRACE with SPLENDID VIEW KOUTOUBIA / ATLAS
RIAD ARCHITECTURE & LARGE BRIGHT PATIO GARDEN of  120m2 with SWIMMING POOL
Dedicated HOTEL SERVICES: SPA, RESTAURANT on site, EXCURSIONS departure Riad,

Free WiFi, Access 24/24, Linen & Cleaning included

, Airport TRANSFERS 24/24,

Free Homemade Breakfast

…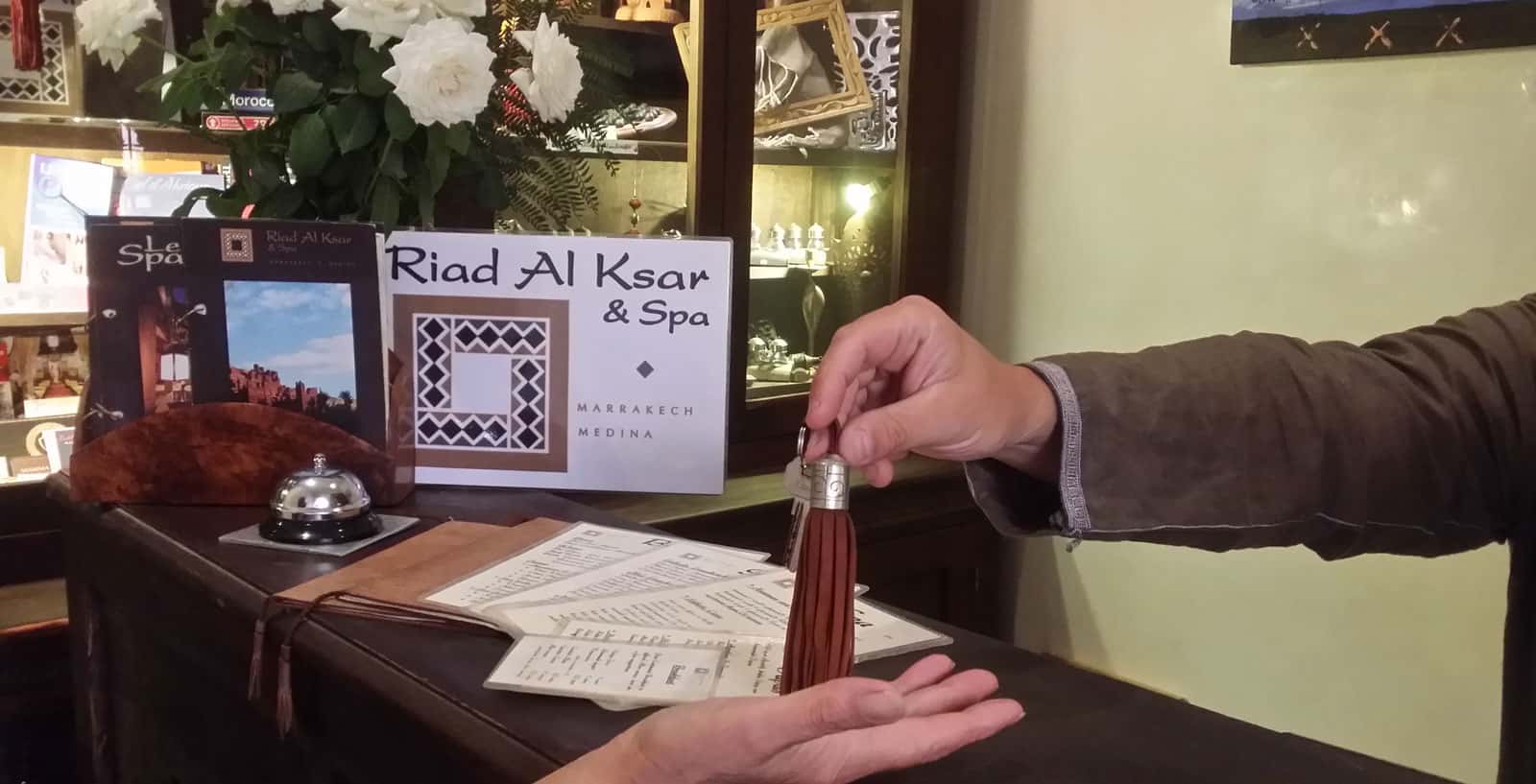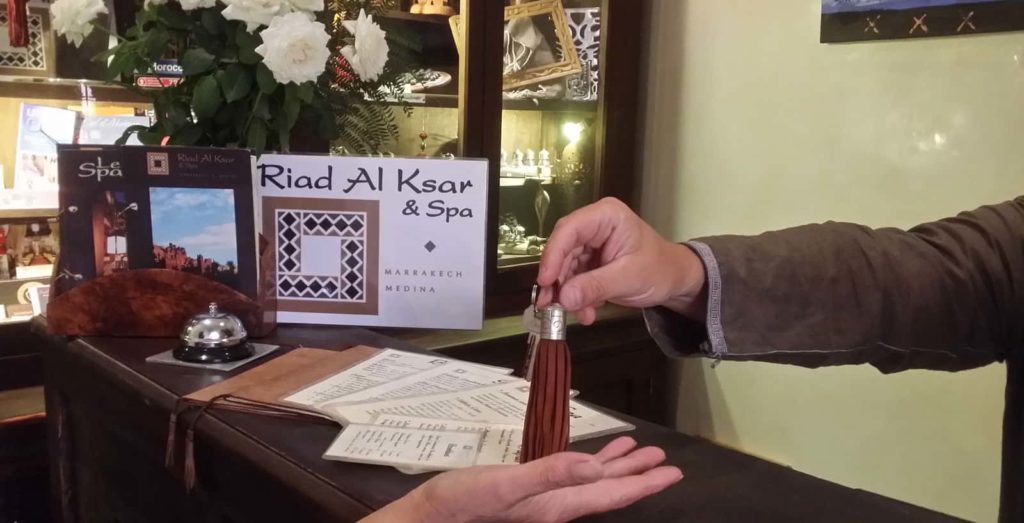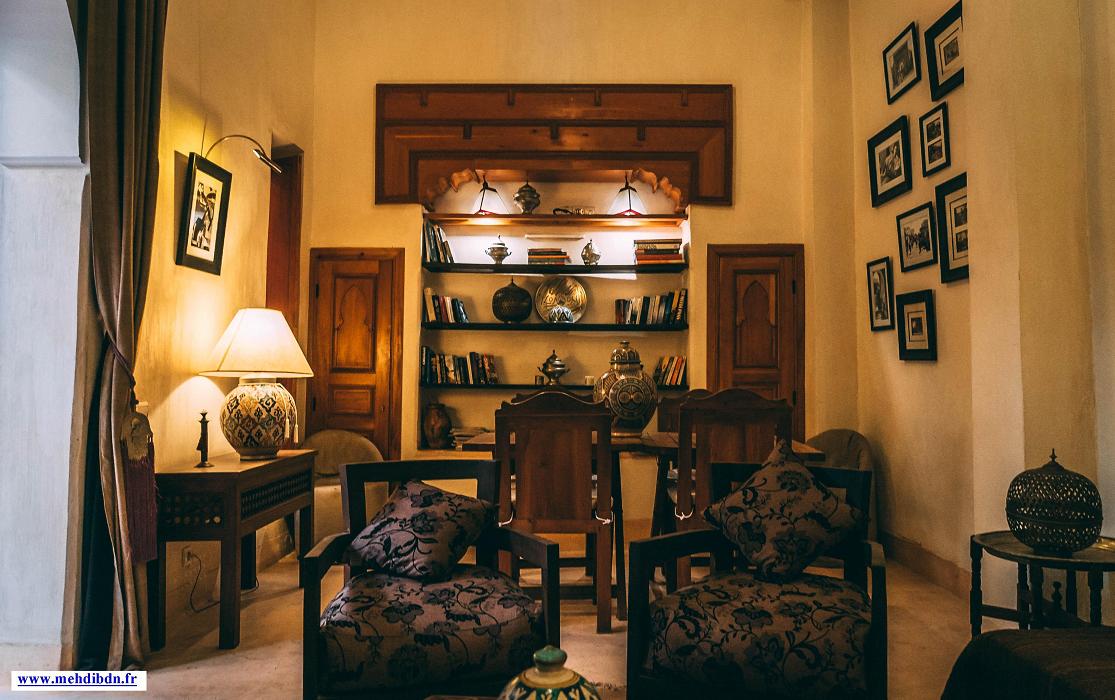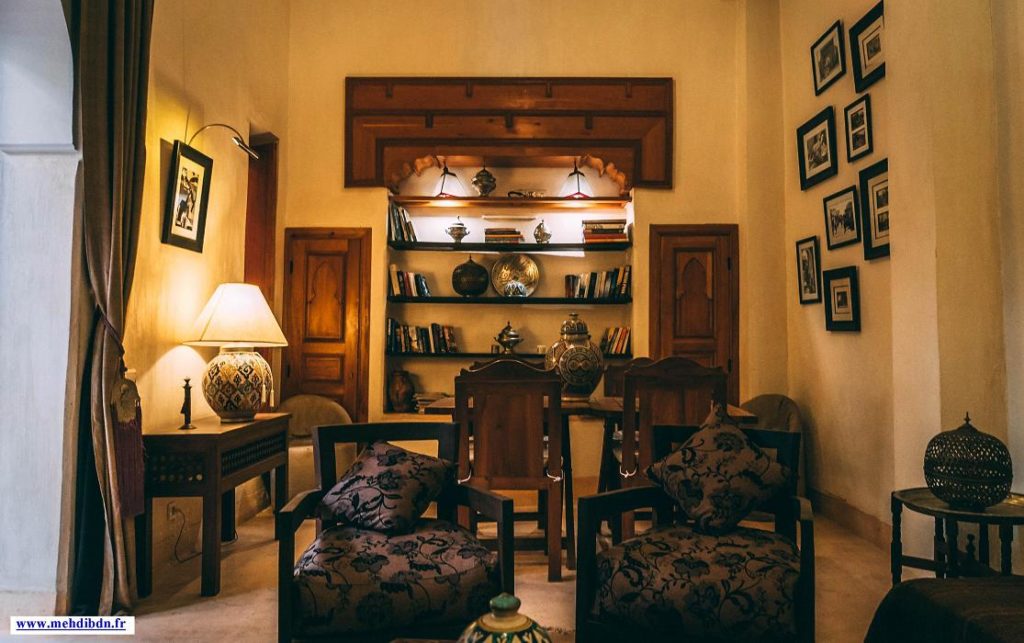 We stayed a total of - and four nights at this very stylish riad hidden away in a quiet corner of the medina. The staff was attentive, not pushy, and offered helpful suggestions and advice. The one improvement that would make a huge difference would be air-conditioning or a fan. The plunge pool provided welcome relief from the heat we in Marrakesh at the time of our visit.
Prue Smith | London, United Kingdom
We took advantage of the Easter weekend and went to Marrakech to explore the city and enjoy some warmer weather. The team at Al Ksar Riad was terrific, and we had a wonderful stay. They were friendly, attentive to our questions and requests, and we would happily stay there again.
Phil H Heidelberg |Germany
Lovely stay at Riad Al Ksar. All the team are extremely friendly and provide top notch service. Really a home away from home. The Riad is comfortable, rooms well equipped and peaceful. Location works well, with a short walk to the beginning of the pedestrianised streets to the 'big square'. Staying here gives a good local feel, but with the comfort and security of a good hotel. See you next time!
Dan C | Dubaï, Émirats
Olivier's eye for style makes this a beautiful place to return to after a day in the town. It is very calm wth beautiful, quixotically decorated rooms and a roof terrace where you can breakfast whilst looking out over the city- a few pointers, though; first, don't book through an agent (we made this mistake) - best to book through Olivier at the Riad direct - he will sort out a taxi link from the airport, too - and make sure the price you pay is right. We have seldom felt so looked after as we did on this trip. The food was fantastic, too - thank you all!
Miles CS | Oxford , United Kingdom
Marrakech est une ville bouillonnante, le Riad Al Ksar est un havre de paix. Merci à toute l'équipe pour cet accueil.Riad parfaitement est bien tenu et le personnel est charmant. Nous recommandons.
Christine & Laurent |Compiegne France
Your Holiday in Marrakech
Discover OUR BLOG with plenty of TRAVEL IDEAS and local TIPS for you Holiday or Weekend in Marrakech