Riad Rental with Swimming Pool in Marrakech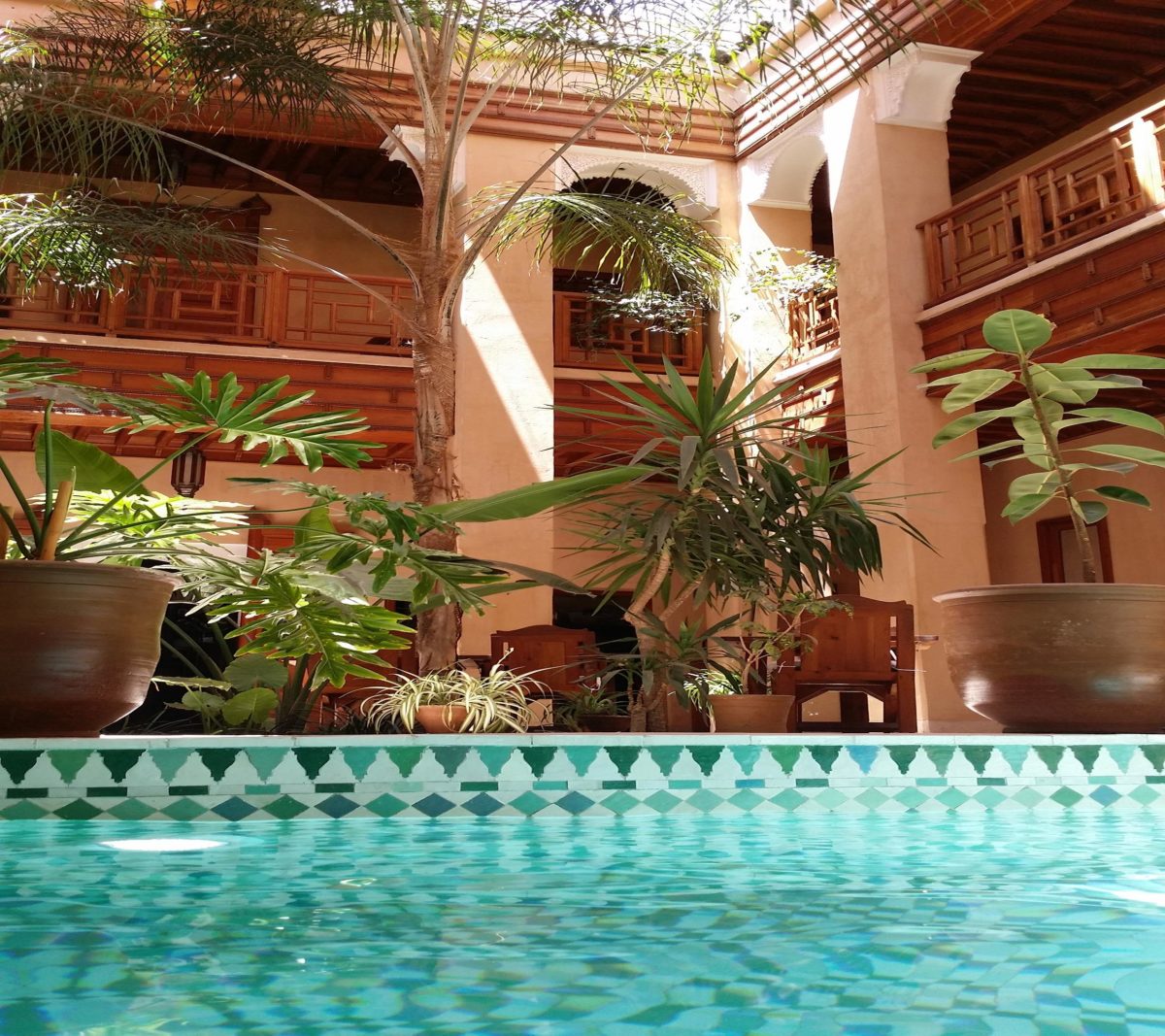 Riad Rental with Swimming Pool & Services in the Medina
The Riad's Swimming Pool is backed by a double wall fountain and will bring you freshness and relaxation in summer with its gentle rustling sound. During Hot Summer Days, Guests can sip a good mint tea and enjoy succulent Moroccan pastries on one of two Beach Lounge on each side of the Riad`s pool (10ftx10ft – depth 4ft6 ). In the Evening, a Romantic Atmosphere appears with the Magic Illumination of the Pool.
Situated also in front of the Spa doors, The spa area with bath is a promise of well-being. In Marrakesh, the best of the Moroccan Bath & Massage Ritual awaits you. Guests can dive into the invigorating and life-giving waters of the Swimming Pool after a Hamman Scrub Care, while waiting for a relaxing massage.
Riad Private Spa includes a Unisex Hammam, a room for Duo Massages and beauty treatments, ideal for Couples. The Pool of the Riad allows You to Chill in the Shady Patio, a real soothing and an ideal treat for a Well Being Weekend or relaxing stay.
The Riad also provides Restaurant & Bar, Concierge, Excursions Services
Private Riad For Rent OR Bedroom Holiday Rental
Al Ksar, Riad Rental with Pool in Marrakech, can be booked:
1/ For Exclusive Private Rental OR for a Room Rental. In both cases, 24/24 Staff and Services of the Riad are provided, such as Catering, Bar and Spa Services. Exclusive Rental with Private Use of the Riad offers a great opportunity to stay together with family or friends in the Riad. Ideal for a Birthday, Anniversary, Hen Party or Special event, in the Medina of Marrakech.
The 10 Bedrooms with Single, Double or Triple use, can accomodate up to 24 persons, based on a BnB Breakfast meal plan . Additionnal Hospitality Services are available and can be added on top, such as Dinners, Spa treatments or Private Excursions, as well as Special Events. This type of riad rental with pool in marrakech can be made ONLY on request to the Reception or by Email at info@alksar.com
2/ Or for Room Rental with Breakfast  can be made Online easily in 3 clicks. For Single, Couples or small groups, the Riad offers Single, Double, Triple Rooms or Junior Suite. Chat Button is available online for Live Query. With All Inclusive rates, the price you see is the price you pay. BEST RATES on our Official Website
Access included to the Patio, the Living Room, the Swimming Pool Area and,  on the 2nd floor, to the Rooftop Garden Terrace. There is No Access to kitchen, laundry room and private sections of the Riad. Restaurant service, Spa treatments are subject to additionnal costs and not included in the Bedrooms or Riad rental rate.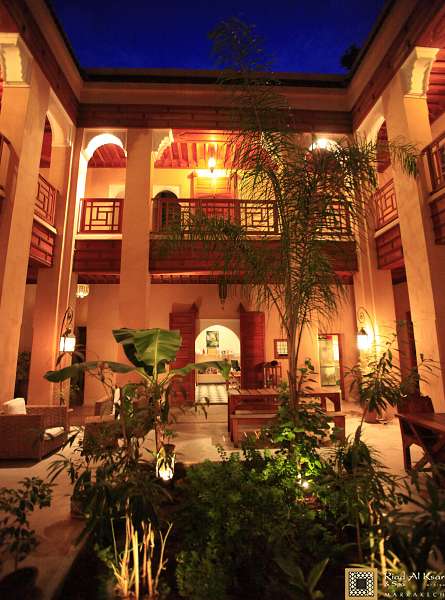 Easy Vacation Rental & No Hidden Costs
Rooms For Rent at Riad Al Ksar & Spa can be booked online instantly on the Riad Official Website. There are No Hidden Costs, Clear Rates & Contract.
Access 24/7 with Security & Staff at all time
Bed & Bath linen Included (Towels, Bedsheets..)
FREE: Speed Wifi Optical Fibre & Breakfast & Swimming Pool access

No Hidden Costs such as Cleaning Fees, Deposit or Additionnal Rental Fees
Instant Booking Online with Live Rates
Best Rates on Riad Rental Official Website & Free Advantages
Live Chat Button for instant query