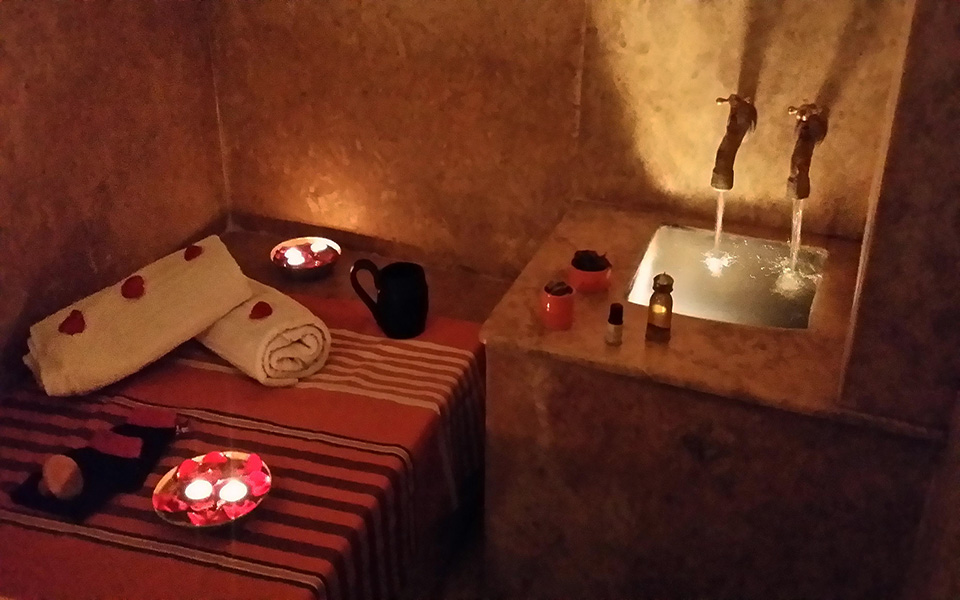 Pleasure of Private Spa Breaks in Marrakech
During a Moroccan Spa Break in Marrakech for a Weekend or more, enjoy the Best Benefits of Hot Water and Moroccan Natural Wellbeing treatments in our Private Family Spa area. With our offers for Mixed Spa treatments, Relax at the Riad Al Ksar, Boutique Hotel Spa in the heart of the Medina of Marrakech.
The Spa includes Duo (Unisex) Cares with Two Duo Moroccan Baths (Duo Steam room), Two Duo Massage Room for Couples, for up to 4 persons simultaneously, a beauty cabin for Esthetic Cares within an intimate riad of charm, calm and luminous, ideal for relaxation and quietness.
Guests staying at the Riad can ask at the reception.The team Al Ksar welcomes you at the spa, on site, 150 meters from the Bahia Palace, from 10h to 19h Every Day for quality care at the best rate.
The Spa treatments are also Opened to External Guests, by reservation only, by email at Contact@alksar.com or telephone or through our Spa Booking Form
Wellness Spa Breaks: Hammam, Massage & Esthetic Cares Packages
A la Carte, you can concoct your SPA circuit thanks to our A La Carte Spa Menu. The best of the Moroccan Spa Ritual can begin.
The festivities start with the Hammam Steam Bath Care. It is in this hot and humid room that the scrubing is made with the Black Soap as well as the Ghassoul Wrap Clay (pronounce rhassoul), to purify skin and hair.
Finally the Pure & Natural Moroccan Argan Oil Massage allows you to relax each muscle for a maximum wellbeing of the body and the spirit, nourishing the skin with one of the best oil for rehydration and against aging.
Moroccan Spa Breaks Marrakech Packages including Esthetic Care Manicure, Pedicure, Facials and Hair Removal are also available at the Spa of the Riad Al ksar. You will find details of our Spa Menu and Rates in page Spa Rates.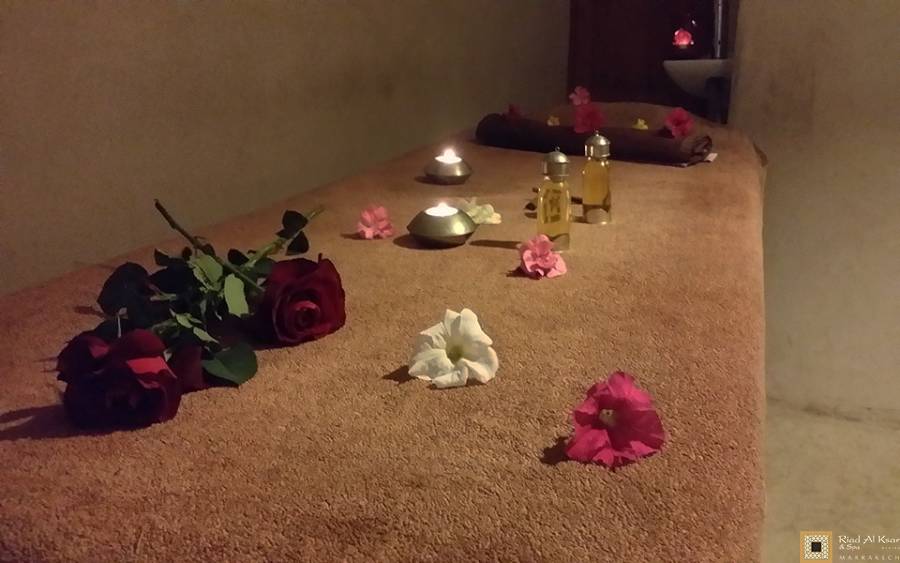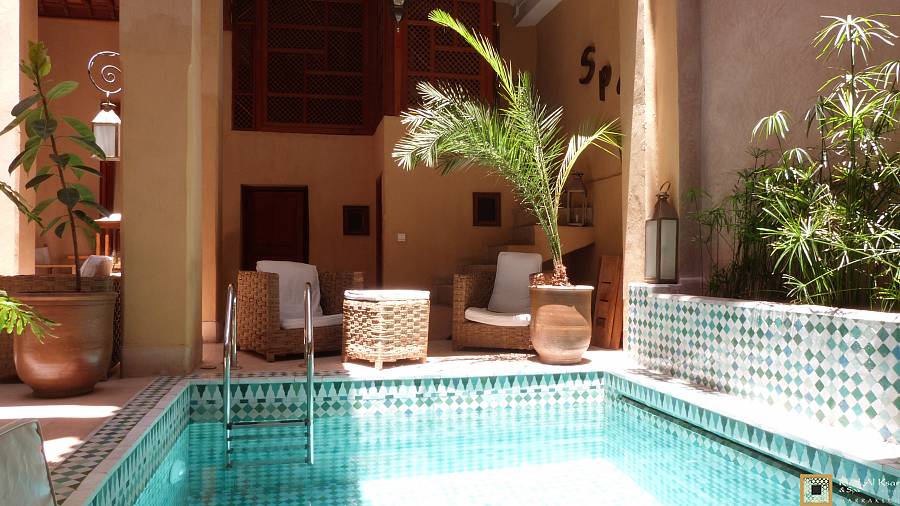 Duo Spa Day for Couples | External Hotel Guests
The Spa Day Treatments at the Riad Al Ksar are Opened for External Clients (Not staying at the Riad), who can take advantage of the "Spa Days" Offers, as well as clients staying at the Riad.
The Best of Moroccan Spa Breaks Marrakech Wellbeing Treatments at Le Spa by AK includes Mixed (Unisex) Spa cares, in DUO Rooms, Ideal For Couples. Also it allows Free Access to  Solarium on the garden Roof Terrace on second floor.
The Panoramic Terrace offers a Spectacular View over the Koutoubia Mosque, the Medina & the Atlas Mountains on the whole medina and on the snowy Moroccan Atlas mountains in winter.
Spa Breaks Reservation
For EXTERNAL CUSTOMERS (not staying at the Riad), Half-day Spa Reservations at the Riad Al Ksar in the Medina of Marrakech can be made by email at contact@alksar.com , by SPA BOOKING FORM, or telephone
For GUESTS STAYING AT THE RIAD, Reservations can be made Online or by Email or directly on spot during your Stay.
Discover our  Spa Holiday Break during a Weekend or a Short Break in Marrakech