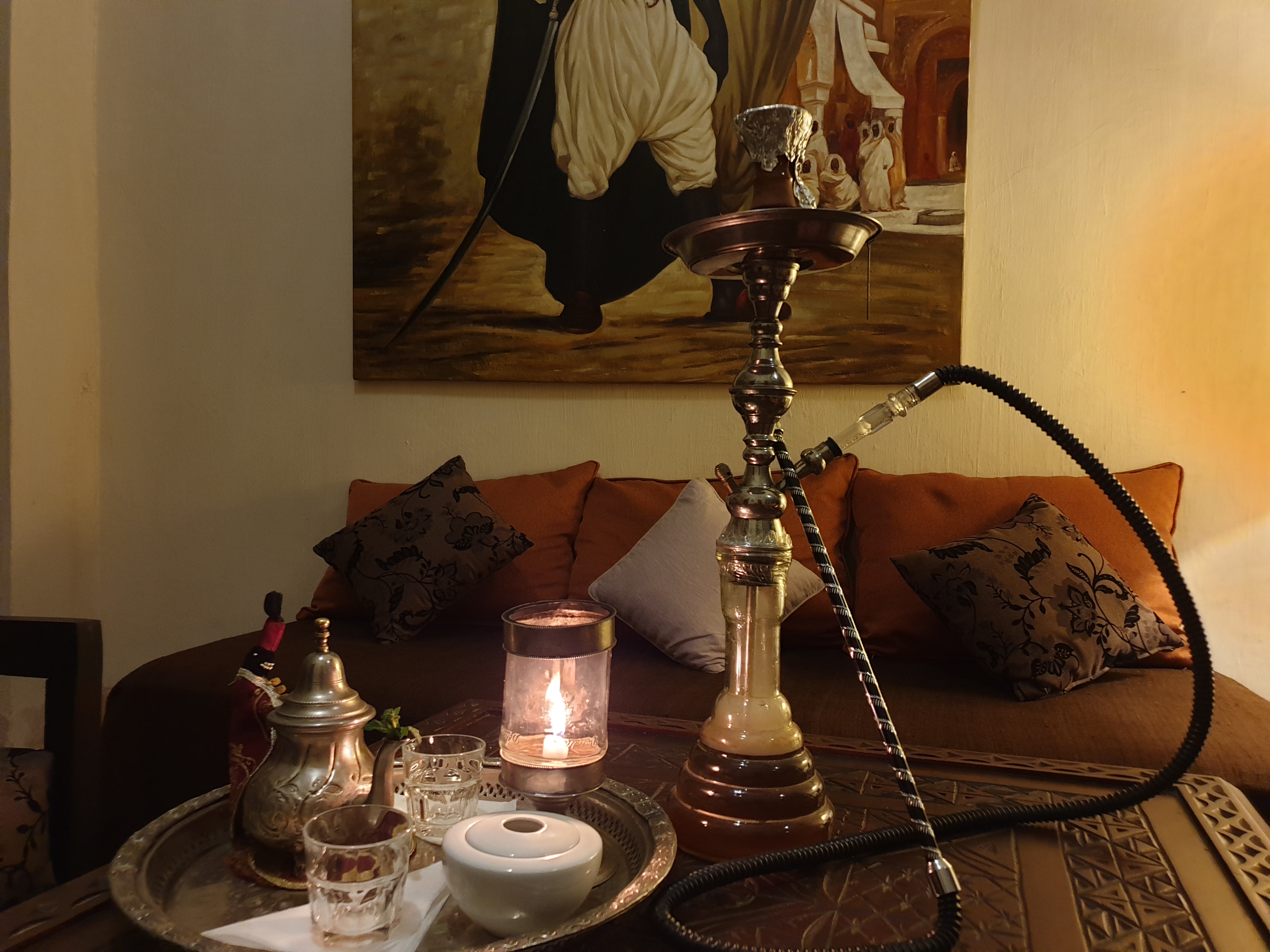 Shisha Sky Bar in Marrakech Medina & Moroccan Mint tea at 17€
Smoking a  Shisha or sip a Moroccan Mint Tea accompanied by oriental pastries is also very nice in the evening after a day of sightseeing in the city of Marrakech. Under a Fabulous Starry Sky in the magical atmosphere of our Rooftop garden terrace, you can discover our Shisha Perfumes: mint, apple, grape or licorice in the Shisha Sky Bar in Marrakech.
The Outdoor Bar on the terrace is available for a tasty Moroccan Aperitif with some of our Amuses-Bouche unless you prefer to take a Snack in the shady patio .
"ShiSha Mint and/or Apple Flavour + Mint Tea" at 17€ or 200dhs
Panoramic Rooftop Garden with Lounge
The Fabulous Terrace of the riad, arranged as a Roof Garden allows you to relax after a hectic day in the medina. Quiet and relaxing atmosphere under the olive trees and palm trees.
You can enjoy the different areas available on the Terrace – by Day in the Solarium with its Outdoor Shower, or at the end of the day in the Sofas Lounge areas, under the Restaurant Pergola or at our Sky Bar – with Moroccan mint tea or a Shisha.
Also Enjoy, on our Panoramic Terrace,  our PRIVATE Cooking Class Workshop available by Reservation Online or On Spot in the Riad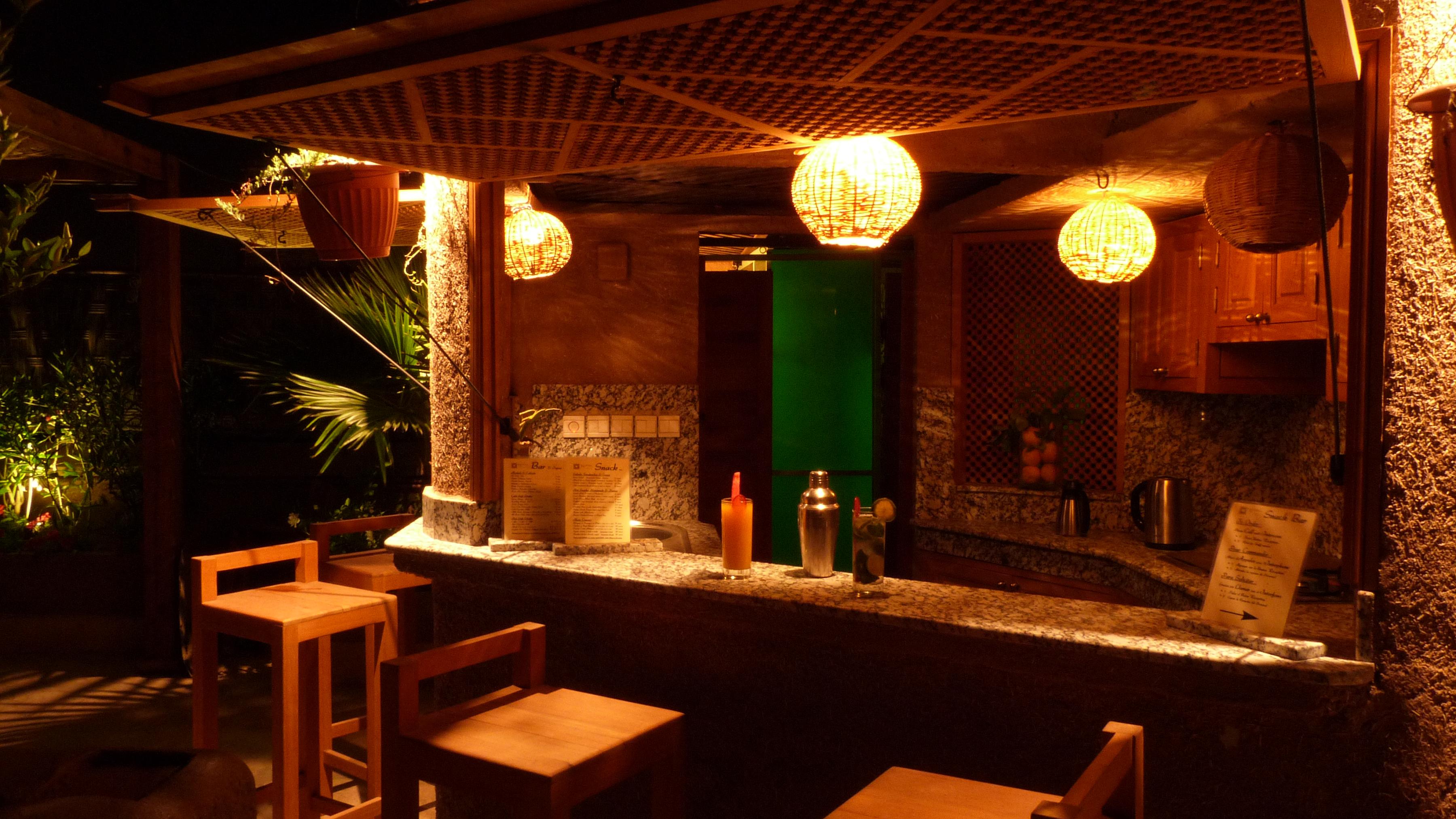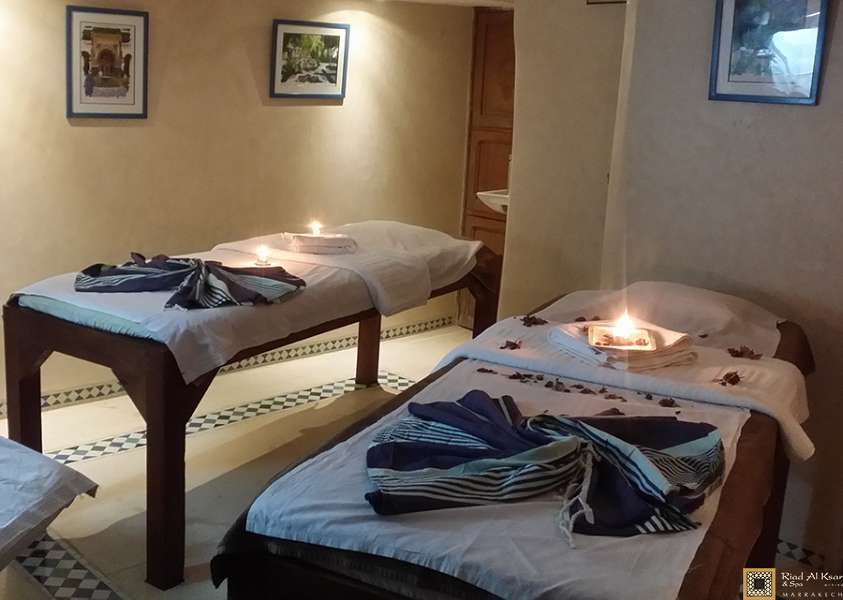 Promotion: Shisha + Couple Massage at 56eur
Until 5:30 pm, take advantage of our SPECIAL OFFER SHISHA + DUO COUPLE MASSAGE 30 minutes
Together, enjoy a Romantic Relaxing break in our DUO Couples Massage Room. After this time, you will enjoy a Shisha on our Panoramic Rooftop Terrace.
The Spa of Riad Al Ksar & Spa is accessible from 10:30 am to 6 pm. The Spa also offers Hammam and Aesthetic Bodycares throughout the day. See our Spa Menu
OFFER AVAILABLE BY PRIOR RESERVATION via Whatsapp or Telephone. Contact Riad Al Ksar
"ShiSha + Duo Massage 30mn" at only 56€ or 620dhs for Two
"ShiSha + Duo Massage 60mn" at 75€ or 830dhs for Two
"ShiSha + Duo Hammam 45mn +Massage 60mn" at 102€ or 1110dhs for Two
Sweet & Sour Snack ``A la Minute``
The Restaurant Service of the team Riad Al Ksar & Spa is available from 8h30 to 23h. On simple request, a la minute, you can order on the Sweet &  Sour Snack Menu.
For a more refined Moroccan food, in our Table d'Hotes Moroccan Restaurant, we recommend you to book 1h or more in advance in order to enjoy an excellent Chicken Merguez Couscous or a Chicken Lemon Tajine available on our Restaurant Menu.
The Bar also offers several Drinks: Fresh Fruit Juices, Sodas, Cocktails, Hot Drinks, Spirits and Moroccan Wines, throughout the day. Our Homemade Ice Cream and other sweet desserts, Moroccan Patisserie and cakes are also available. You can even Learn how to make a Moroccan Mint Tea with our staff at your disposal on the Shisha Sky Bar in Marrakech.