Discover New Airport Terminal Marrakech Menara
… Marrakech unveils its new Airport Terminal Marrakech Menara, inaugurated by King Mohammed VI on Wednesday, December 21, 2016.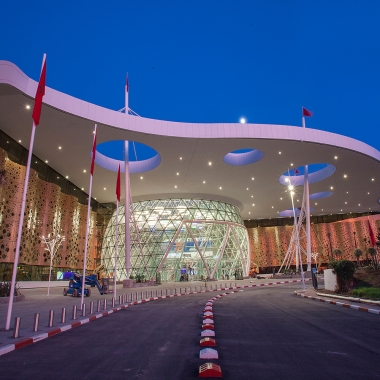 Resolutely design and ecological, this extension of the old terminal confirms that Marrakech is one of the most appreciated top 10 destination by tourists.
Read Full Article About How to Get Around Marrakech ?
Why a new Airport Terminal Marrakech Menara ?
To complete this project realized by the Moroccan architect Abdou Lahlou, it took 4 years of hard work.
This new terminal will allow the absorption of a flow of 9 million passengers per year in default of its current 3.9 million (end of 2015), or all the efforts from its conception until its final realization has been put on the fluidity of the tourists both in arrivals and departures from the airport for their stay in Marrakech.
The former terminal 1 of the airport, adjoining this brand new one, will be rehabilitated and reorganized for an opening scheduled at the end of the first quarter of 2018, in order to reach the maximum capacity of 9 millions passengers per year desired by the royal orientations and to make the Marrakesh Airport, the second airport of the Kingdom behind Casablanca. So the need to have extended and equipped this new terminal with the necessary and compulsory infrastructures – plane parking, embarkation / disembarkation bridge – to meet international standards.
Read Full Article Useful Holidays Tips When Travelling to Marrakech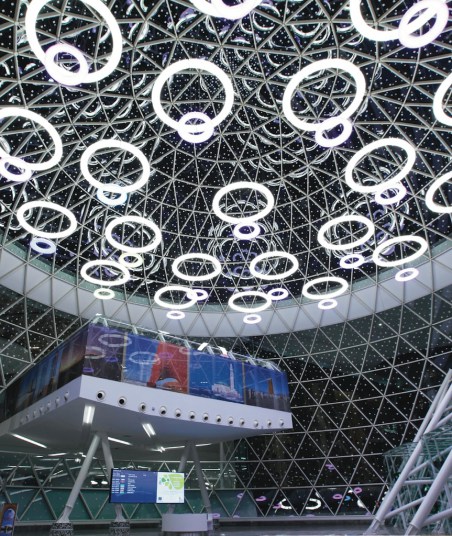 What it contains?
With an area of ​​57,000 m2 and spread over 3 levels with a ceiling height of 18m, the new terminal includes a public hall surmounted by a large geodetic dome (45 m in diameter glass and 32m high) sheltering boarding rooms , a duty free shopping area and a food court, as well as private lounges for VIP travelers.
It also includes telescopic embarkation and disembarkation bridges, an area reserved for the delivery of luggage with no less than 8 carpets featuring with some bureau de change, duty free shops.
Outside, a pedestrian esplanade with green area, a 1550-car car park and a minute drop-off zone like all the biggest airports in the world.
The new terminal also features new technological equipment and a large new area dedicated to exhibitions. Following the holding of the COP22 in Marrakech in November 2016, the first two exhibitions are:
– a collection of Mostafa El Ansari Moroccan painter
– "UNESCO GREEN CITIZENS: Pathfinders of Change" is an exhibition to pay tribute to the men and women who, throughout the world, bring to life outstanding projects of education for Sustainable Development according to the UNESCO site. It will be presented in 5 international airports of Morocco from November 2016 to March 2017:
– Marrakech Menara Airport in November 2016
– Casablanca Mohammed V Airport in December 2016
– Rabat-Salé Airport in January 2017
– Airport of Tangier in February 2017
– Airport of Fez Sais in March 2017
Read Full Article About Best Places to Visit in the Medina of Marrakech

Resolutely Ecological
Being Eco-friendly, the bioclimatic architecture of the terminal with its double-skin facades makes it possible to reduce its ecological impact and to respect the environment and its principles of sustainability.
To reduce the level of electricity consumption, a total lightning in LEDS has been respected, a new technology of internal temperature regulators has been installed in order to minimize the consumption and to limit the external contributions of electricity.
Another novelty regarding water consumption, an installation of a rainwater harvesting facility has also been set up using large collectors and tanks strategically placed along the terminal for watering external and internal green spaces.
Proof of this environmental feat, the new airport Terminal of Marrakech Menara airport Code – and long before its opening – obtained the Certificate 1 in the program "Airport Carbone Accreditation" from the international airport council.
Read Full Article About Maps of Marrakech to Print & Download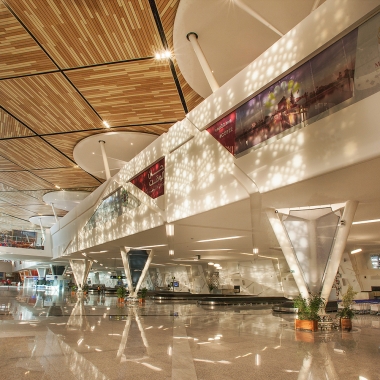 You might also be interested in:
Going from Marrakech Airport to the City Center
Travel Advice to know Before Travelling to Morocco
7 Tips to Find Cheap Tickets to Marrakech Airport
©alksar 2019 – https://www.alksar.com