What to do in 2017 in Marrakech ? What to See and to Visit ?
… News Winter 2017… Museums, Gardens, Shopping, Restaurants & Night Clubs. What to do in 2017 in Marrakech ? What to See and to Visit ? the Red city always brings as much of displacement, with in addition some News for this year 2017!
Whether in terms of Gastronomy and Moroccan cuisine, Shopping and Crafts, or in terms of Exotic Tours, we will give you a short tour of the latest Marrakech news. This guide of good tips and tourism in Marrakech is published by residents, is independent, and does not refer to advertising or promotion addresses but has the originality and reputation of the places mentioned.
Marrakech in winter is a promise to escape from grayness and coldness in Europe. With exceptional gentle temperatures of 20 to 25 degrees Celsius on a sunny day in January, February and March, you are assured to get few colors, only 3 hours flight from Paris, Brussels or Geneva. Winter is a very pleasant time to do Tourism and Visit Marrakech, with its dry and mild climate.
Read Full Article About Monuments To Visit in the Medina of Marrakech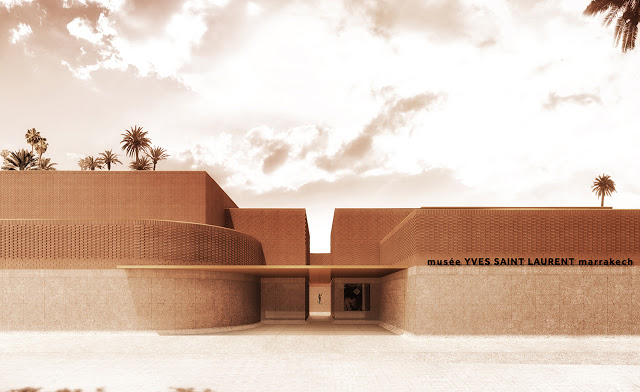 New Gardens in Marrakech and its Surroundings … Magic & Envirment

What to do in 2017 in Marrakech ? In terms of Gardens, Marrakech never ceases to amaze us. Synonymous of child out lifestyle, the Red city associates Sun and Nature in a wonderful way. There is nothing more exotic than to grow Mediterranean and North African essences in a land bathed with sunshine. Very original projects have opened in recent months in the heart of the city and its surroundings.
Anima Garden
A new Garden has just opened its doors. His name? ANIMA, le RETOUR du PARADIS… the name says it all! With an exhilarating view of the Atlas, full of snow this winter 2017, you will be conquered by the artistic and botanical staging of this islet of greenery. Its creator, the Austrian artist Andre Heller, has created an eclectic space, just like his art.
At 25km from Marrakech, on the Ourika road, and with access by free shuttle bus from Jemaa el Fna, you will be transported outside the world on this traveling journey. Guaranteed happiness. Rates are of 120dhs for tourists, 60dhs for Moroccans and residents, free for children under 12 years old. Open every day. Cafe Bowles is open for snacking and dining.
Read Full Article About All Gardens in Marrakech & Around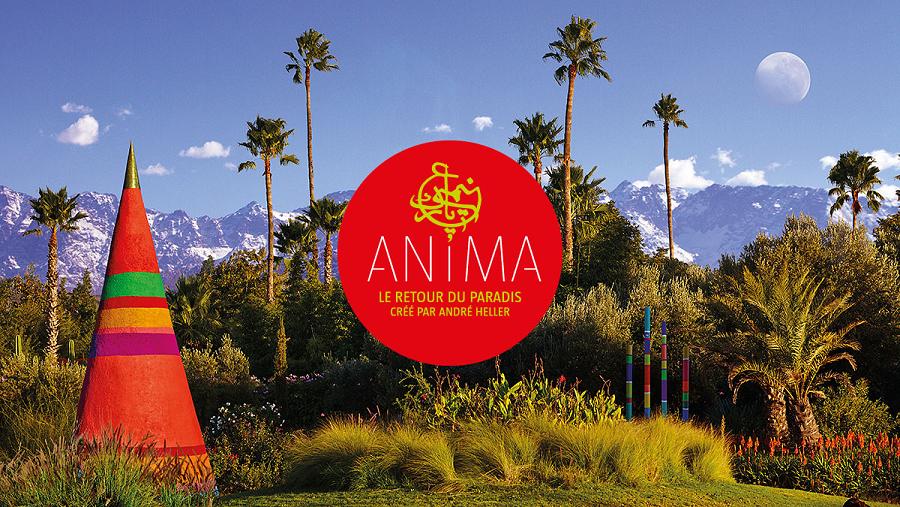 Terres Rouges Garden
We wanted to talk to you about a very special place, as Marrakech knows how to hide some.
Life is made of beautiful things and also of less beautiful things. On the way there are also sometimes gems. what to do in marrakech ? TERRES ROUGES GARDEN is one of them. The private foundation Montresso, created in 1981 by the collector and donator JLH, has housed in Marrakech since 2007 a space devoted to contemporary art in the form of a village incubator: the Residence of artists "Jardin Rouge". It receives plastic artists from 2 weeks to 2 months in order to make them known. They came from many corners of the world and the concept allows them to exchange and share techniques. The brochure of the foundation displays the slogan "Passeur d'Art". As a catalyser for the artists , the entity is intended as a simple relay of creation, independent of the general public, to bring closer the networks of art lovers .These is the whole method of JHL, which itself said: "I think we're communicating too much. To live happy, live hidden ".
Since 2016, a new space of contemporary art allows exhibitions 3 to 4 time a year. The current exhibition called XXL#1 brings together the artists JonOne, Tilt, Fenx, and Cedrix Crespel on the theme of the very large format and is visible until January 30th. The Montresso venue is located on a site of 13 hectares in an olive grove, at 20km from Marrakech. It is open to the public by appointment only, on Fridays and Saturdays.
Read Full Article About Activities To Do in Marrakech & Around
Jardin Secret
In the heart of the Medina, an Incredible Garden … the JARDIN SECRET. In fact, it is composed of 2 gardens: one Exotic, composed of Mediterranean and  World plants as well as exotic flowers, the other one, Islamic, is more importantstructured around nourishing water, purifying and fertile water. Fueled by the waters of the Agdal gardens, a few hundred meters upstream, south of Marrakech on the gentle slopes going as far as the Atlas, Secret Garden is a set dating from the 15th century, Saadian period.
After the destruction of the Palace after the fall of the Saadian Empire, the place falls into disuse, following a historical epic romance. This Riad, with an area of ​​4000m2, is renovated by the Italian architect Lauro Milan, and the landscaper Tom Stuart Smith, from 2008. Riad in Medina of Marrakech, Le Jardin also offers a bookshop and a café, all located in the Mouassine district. Rate 50dhs, tour of the tower 30dhs, -50% for residents, free for under 12s. Handicap access.
Read Full Article About Madrassa Ben Youssef, near Jardin Secret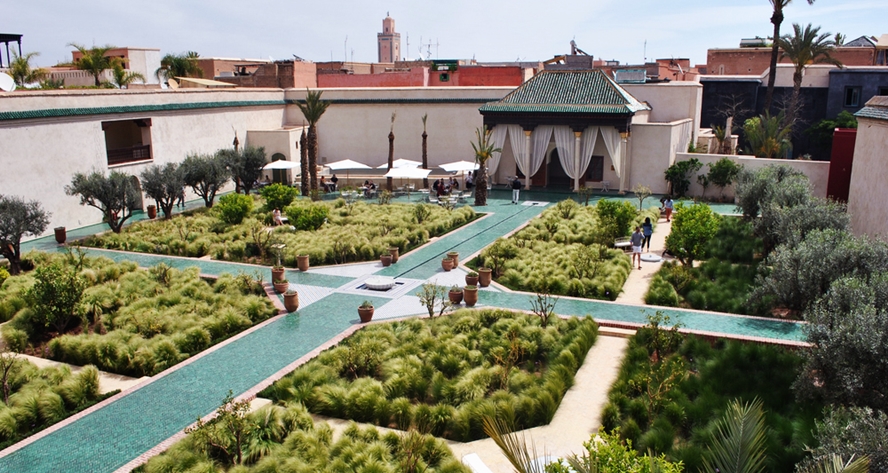 About Museums… Awaiting Yves Saint Laurent mYSLm
What to do in 2017 in Marrakech ? In terms of Museums, pending the opening of the YVES SAINT LAURENT MUSEUM in the fall of 2017, 2 steps away from the Majorelle Garden, which promises to be a major event. MAJORELLE GARDENS always offers visitors the charm of the famous garden of the painter Jacques Majorelle. The Bleu Majorelle square fountain, with in the background the artist's studio, of the same blue, is symbolic of the style of the garden itself. The workshop now houses the Berber museum, emblematic of the oldest people in North Africa. It is the origin of objects rich in creativity and know-how (jewelry, carpets, leather …). Villa Majorelle, called Villa Oasis is a private property. Only the gardens of Majorelle are accessible to the public. Both Garden & Museum are owned by the Yves Saint Laurent Pierre Bergé PB-YSL Foundation,
Prices are 70dhs for the garden, 30dhs for the museum, for the residents abroad 40dhs the garden and 10dhs the museum. Free for minors of 12 years and school on written request.
Read Full Article About Jacques Majorelle Famous Garden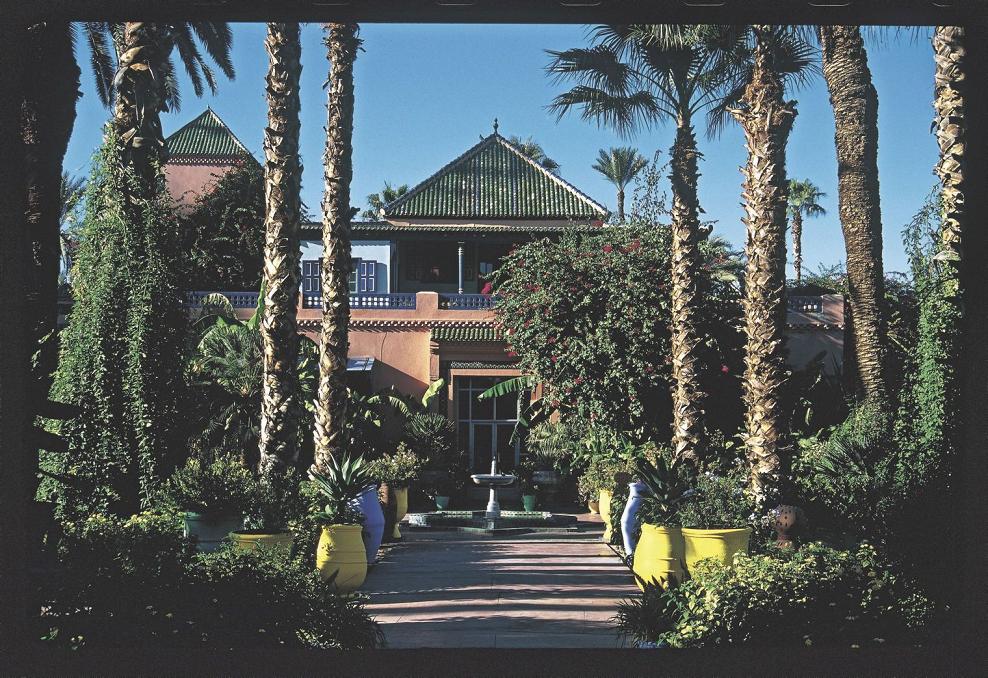 Restaurants in the Medina of Marrakech: The New Pearls 2017 to Discover
In the Riad Zitoun district, in the Medina of Marrakech, What to do in 2017 in Marrakech ? 2 promising new restaurants will make you salivate the taste buds. Moroccan cuisine revisited and expanded:
La Famille
LA FAMILLE in a rustic and zen style with a small shop, proposes an organic menu of Moroccan cuisine. The menu, without meat, changes every day, and is made up of seasonal and Mediterranean products as well as fresh pasta. Open at noon only. 42, Riad Zitoun Jdid.
Naranj
The restaurant NARANJ, opened from 11 am to 11 pm, has a very friendly decoration in a convivial atmosphere, with modern tableware and colored table, proposes Lebanese and Mediterranean cuisine with Houmous base, Fallafels with fresh cheese, cucumber soup or pasta stuffed with yogurt. We also crack for the Beef Shawarma of or the ravioli one. The rose lemonade is divine. 84, riad zitoun Jdid
Zwin Zwin Café =
New Address
Another classic in the same district that we are not tired, with a colorful deco and a cool atmosphere with very nice eclectic music… We love the ZWIN ZWIN Hotel Restaurant Spa Marrakech, this restaurant has a relaxed atmosphere with its deco half vintage half beldi, which promises a moment of relaxation, especially on the terrace with its 360 ° view on the Medina and the snowy mountains of the Atlas. The menu of homemade tasty dishes and its drinks (with or without alcohol) will make you crack: virgin mojito,wraps, tarts, tagine, couscous , risotto, … not to mention the desserts such Amlou Argan ice cream or Chocolate Briouattes to enjoy without limit. Democratic rates. NEW ADDRESS: 10, Riad MOKHA Street, between Jemaa El Fna and the Station des Grands Taxis.
Read Full Article About How to Get Around Marrakech Easily ?
What to do in 2017 in Marrakech ? Shopping Trends
What to do in 2017 in Marrakech ? Shopping in Marrakech makes you think of Babouches (Moroccan slippers), Moroccan Teapot Set and Glasses, Tagines?
Be sure, it is not only that, even if some shops very well inspired have had the bright idea to revisit the classics of the Souks of Marrakech. what to do in marrakech ? With materials, colors or eccentric and contemporary shapes, the souks take a real blow of youth and can be carried to Paris or London.
Maisonlab
Special favorite for Martin Raffone who opened MAISONLAB, an original concept store from 14th Street in New York City, with slick, vintage or design products, made of natural materials: wood, basketry, ceramics, iron … Furniture, Lighting, Decoration Accessories are displayed for the greatest pleasure of the eyes. The slogan of martin for the Marrakech project is: Marrakech is Modern – locally crafted, designed for now. The tone is given for the local manufacture of handicrafts coming from local knowledge and made for the present world. Address: Behind Carré Eden in Gueliz
Read Full Article About Marrakech Maps To Print & Download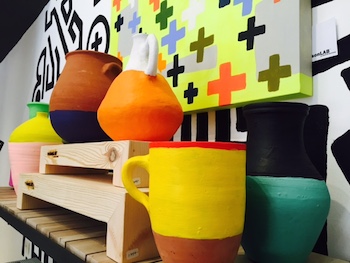 Do not hesitate to lose yourself in the medina (even with the address you would have any difficulty to find the place).
Beldi Chic in the Medina & Guéliz

The Medina is indeed a labyrinth of alleyways, but you will take full eyes. What to do in 2017 in Marrakech ? In the chaos, go to the Place des Epices with its incredible carpet souk, rue Dar El Bacha with its sublime antiquities, in the gallery of the restaurant Terrasse des Epices, filled with Moroccan Design Shops to discover without delay, or Bab Fteuh, near the Jemaa El Fna square, with some delightful luxury craft shops such as AKBAR DELIGHTS or KIF KIF to name just few.
In the new area of Gueliz, what to do in marrakech ? run to the Rue de la Liberte, with boutiques such as  PLACE VENDOME Leather, ATIKA shoemaker, L'ORIENTALISTE, or SCENE DE LIN.
Blow of Freshness in Marrakech in 2017 with the Raspoutine Night Club

The all brand new night club The RASPOUTINE in Marrakech will refresh the atmosphere of the red city. Replica of the famous Eponym Russian nightclub in Paris, the new address in Marrakech keeps the same codes of decoration with alcoves in red velvet, matroichkas and its imposing chandeliers that promise to warm the atmosphere. Nightclub the Raspoutine Marrakech offers a new opportunity to go out if you are looking for a select and exotic place. Address: In place of the SILVER night club, in the Hivernage district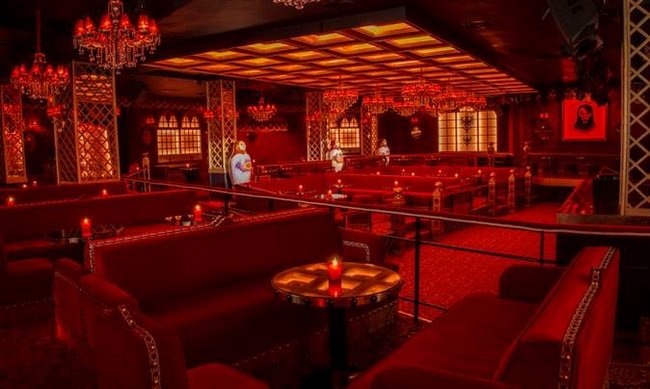 Marrakech Weather in Winter: Mild Temperatures and Sunny Climate
The Winter Weather in Marrakech is very pleasant. What to do in 2017 in Marrakech ? With sunny and warm days and temperatures of about 20/25 degrees, resting under the sun with a mint tea is a real treat. You will understand why Morocco is conducive to relaxation and nature with an advantageous climate in winter. At night, temperatures drop to 5 to 8 degrees, it is recommended to take a warm clothes. Rains are rare at the end of December weather and in January and beginning of February. Late February can see the passage of disturbations coming the south of Morocco.
With shorter days than in summer, Marrakech nevertheless offers in December 90 minutes of sunshine more than Paris with a sunrise around 7:30 and a sunset at 17:30 on the shortest days. Given the Latitude of 30 degrees of the Red City, Marrakech has indeed a minimum duration of 10 hours, against 8:30 in Paris in December.
What the time difference in Marrakech? The time in Marrakesh in winter is the same as in London, an hour less than Paris, Brussels or Geneva. It is therefore minimal. The changes of winter time in Morocco are now carried out by decree on the same dates as Europe, namely the last Sunday in March and October.
Experience a Traditonnal Hammam & Massage for Couple in the Medina of Marrakech

Visit Riad Al Ksar Medina Marrakech Panoramic Rooftop Terrace in the Ancient Jewish District,
only Few minutes walk from Bahia Palace, Spices Market, Dar Si Said & El Badi Palace
You might also be interested in:
What to Visit in the Medina of Marrakech
©alksar 2019 – https://www.alksar.com